BEGINNINGS
More space for even more art
For almost 55 years, Volksbank has been showing in its Weinheim located main branch that it is not only money that it knows something about. What began with around 15 drawings by the graphic artist Gerhard Mehlhase in 1967 is now being taken into a new era with the exhibition "BEGINNINGS" by the Mannheim artist Dietmar Brixy after the customer hall has been renovated and modernised. Although the size of the customer hall has remained unchanged, Volksbank Kurpfalz has succeeded in creating more space with its new concept - more space for consultations, but above all more space for art. Newly designed visual axes, more exhibition space, new viewing positions and a new projection surface for digital art have been added. With his exhibition, Brixy not only enriches the visits of all those interested in art, but adds a significant name to the long list of regional, national and international artists.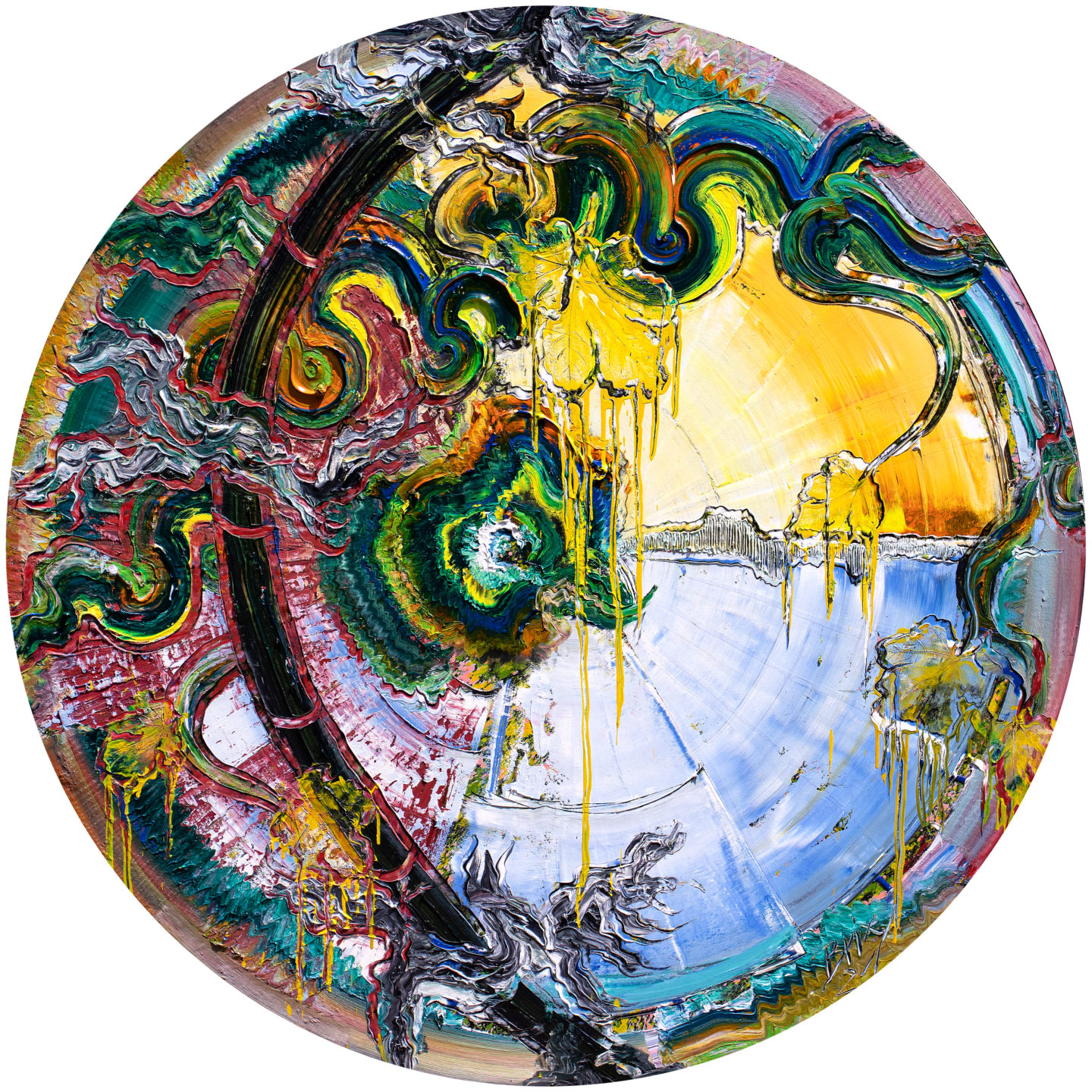 End of Innocence Bamboo Bubble, 2021, Öl auf Nessel, ⌀ 160 cm
The laudatory speech at the vernissage will be held by Ms Dorothee Baer-Bogenschütz.
Dorothee Baer-Bogenschütz, born in Frankfurt am Main, is an art historian and journalist. She works as a freelance author and art critic for art magazines and daily newspapers, is editor of KUNSTZEITUNG and Informationsdienst KUNST. Among other things, she wrote regularly for the Frankfurter Rundschau for many years, discussed in the context of the "3sat" broadcast series "Bilderstreit". She is a member of the advisory board of the art fair art KARLSRUHE. Numerous contributions to art books and monographs, in addition to lectures, moderations, jury activities.

This is what the art historian says about the artist Dietmar Brixy
(Extracts from catalogue "BRIXY REFLECT", 2021, p.45-58)
Fantastical seedtime-markings, a dense canopy of wonders, odes to the Dionysian, secret dabblings in the surreal, playground of nature sprites—or even mood boards for Elvis Presley's Jungle Room at Graceland?
What exactly is it that Dietmar Brixy makes in his sun-drenched studio, with its Gothic Revival architecture and views of verdant green bamboo groves, fig trees, camellias, and rare rhododendron varieties like the Blue Peter? Mysterious metaphors, cryptic symbolism, serpentine beauty? Nature—be it sublimely bountiful or frenetically wild, tenderly sprouting or flagrantly expiring—seems to have an allegorical role in his art. And beyond the purely vegetal, our eye also catches glimpses of cosmic phenomena. Brixy's paintings lead us into far-off galaxies, no matter which phase of his career or series of works they belong to. They manifest as an outlandish, bewildering but enticing mixtum compositum. They bewitch, beguile, and bemuse the beholder. Why? He steps in front of dream horizons.
Brixy plays an adept, deliberate game with the imagination: even if the viewer cannot physically walk through these pictorial spaces, she still longs to do so. Brixy's paintings are inherently imbued with longing, right down to the most delicate brushstrokes. What is more, they radiate an almost magical, alchemical power. It operates like a promise that stimulates all the senses. Brixy creates images that the mind can lose itself in—a territory where the senses gain ground. Formal appeal and sensual excitement: these things go hand in hand.
Brixy forcefully but nonchalantly plays with our rationalized assumptions, well-practiced methods of interpretation, and traditional depictions of nature. His works are never about affirmation or reinforcement; they are excursions into the (as yet unseen) fantastical. In these bewildering paintings full of unearthly beauty and stimulation, leaving any sense of realism behind is part of the agenda.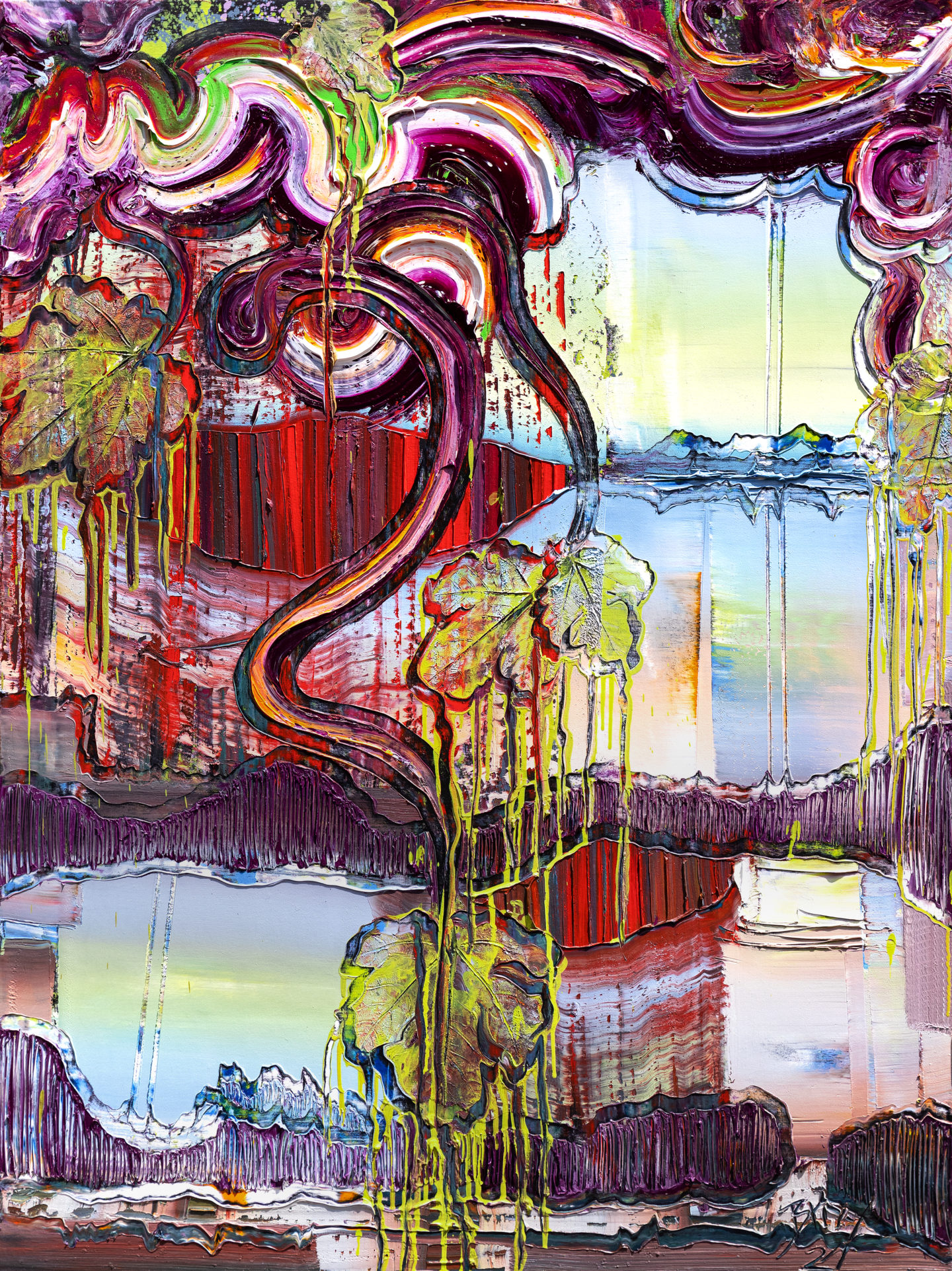 Reflect, 2021, Öl auf Nessel, 120 x 90 cm
Info on the solo exhibition
We cordially invite you and your friends to the opening of the exhibition "BEGINNINGS" on Thursday, 2 June 2022, 7:00 pm. Carsten Müller, Spokesman of the Board of Volksbank Kurpfalz eG, will welcome you. Introductory words will be spoken by Dorothee Baer-Bogenschütz, art historian and journalist, Wiesbaden. Musical accompaniment: Running Five from Hemsbach. The artist will be present at the opening.
Opening: Thursday, 02.06.22 | 19:00 hrs
Exhibition duration: 02.06.22 - 15.07.22
Opening hours: The exhibition is open during bank hours.