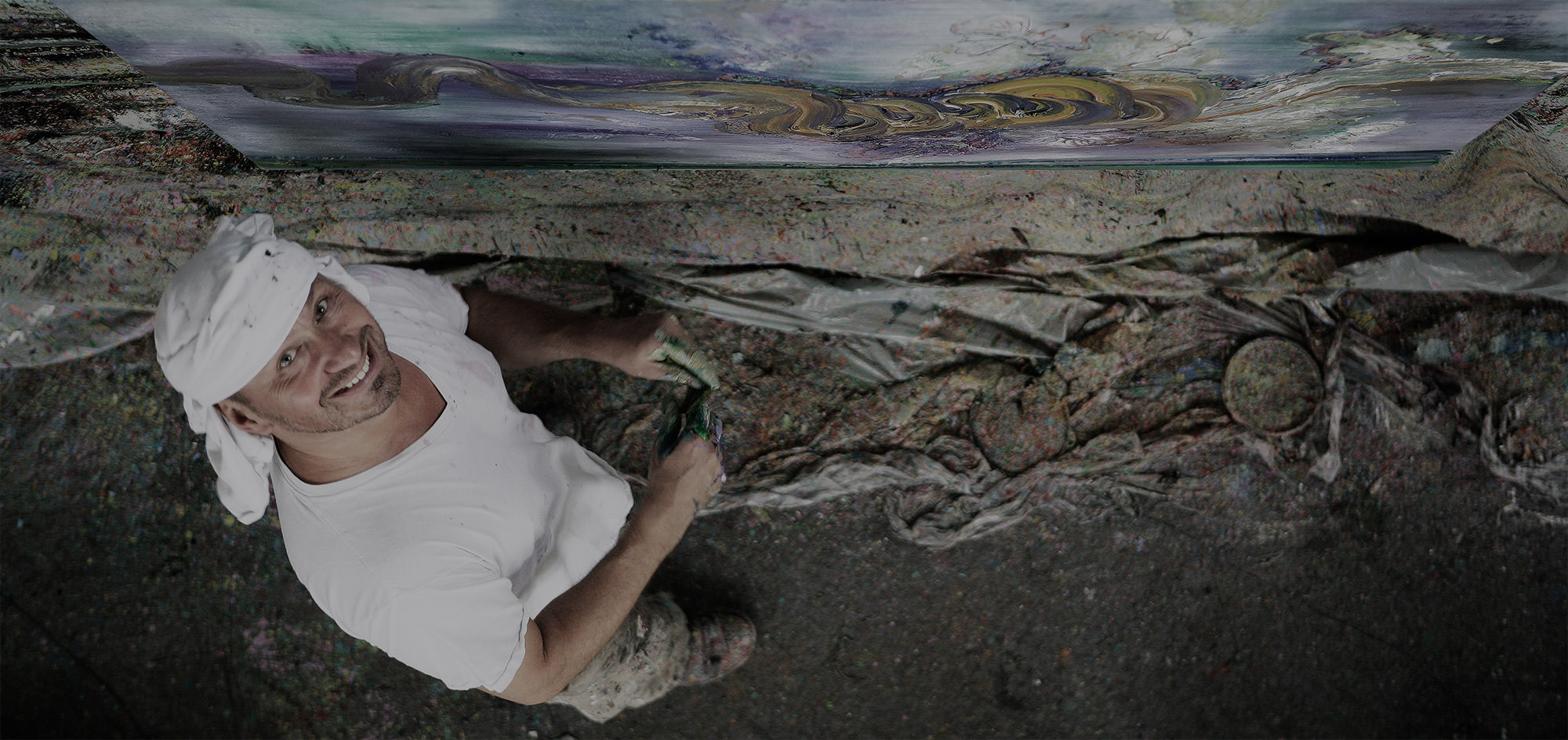 »Being honest, authentic, approachable.
That is what I want in and through my art.«
DIETMAR BRIXY
Dietmar Brixy is a German painter and sculptor. Brixy lives and works in Mannheim, where he runs his studio in the Old Pumping Station. The neo-gothic industrial monument was erected in 1903 and is one of the most important historical buildings in the city. Brixy studied at the State Academy of Fine Arts in Karlsruhe. Since 1991 he lives and works as an artist in Mannheim, Germany.
Nature serves Brixy as the great source of inspiration for his art. His paintings speak their own expressive and lively language, which he infuses into his compositions with brushes, spatulas, combs and other tools. In his almost forbidden beautiful and sensual painting Brixy has been moving for years between abstract action painting and figurative gesture. He developed an unmistakable way of modelling several layers of paint into vibrating pictures. His paintings are created not only with the brush, but also directly with his hands. He literally becomes 'palpable', shaping the pasty oil paints like a sculptor to give them organic and vegetal structures. The results are dynamic, baroque, almost dance-like unleashed colour sensations.
Brixy is represented by galleries in Germany and abroad and takes part in numerous international art fairs.
1961 born in Mannheim, Germany
1985-1991 Studied at the National Academy of Fine Arts, Karlsruhe as a student of professors Wilhelm Loth, Michael Sandle, Harald Klingelhöller, Katharina Fritsch, Werner Pokorny and Elisabeth Wagner
1988 Annual exhibition of the Academy of Fine Arts, Karlsruhe, Germany (first prize)
1989 scholarship awarded by the city of Mannheim (sojourn in Krakow, Poland)
since 1991 independent artist, lives and works in Mannheim, Germany.
1998 Recipient of the Advancement Award of the Ludwig-Roos-Foundation
2001-2003 Restoration and conversion into a home and studio with an artfully designed garden landscape of the Neo-Gothic Altes Pumpwerk Neckarau pumping station (dewigned and erected in 1903 according to the plans of Mannheim's director of town planning Richard Perrey) in accordance with monument preservation guidelines
2004 The artist was awarded the monument preservation prize of the Württemberg Hypo, the Schwäbischer Heimatbund, the Landesverein Badische Heimat, and the Denkmalstiftung Baden Württemberg for the work he commissioned as owner of the new "Altes Pumpwerk" (Old Pumping Station) Mannheim-Neckarau
2008 "WELDE Art Award" (recipient of the audience ward)
2014 "WELDE Art Award" (recipient of the audience ward)
2015 Mannheims Cityscape Award (monument preservation award).
Since 2004 Annual exhibitions of new Brixy's works have taken place at the Altes Pumpwerk (Old Pumping Station) Neckarau . They have developed from an insider's tip into must-see events for art enthusiasts. Exhbitions include, 2004 "Weinlese", 2005 "Roots", 2006 "Runde Sache", 2007 "Grow", 2008 "Beyond", 2009 "Eden", 2010 "Seven", 2012 "Discover", 2013 "Achtung Brixy", 2014 "Ten – Zehn Jahre Kunst im Alten Pumpwerk", 2015 "Surprise", 2016 "Tomorrow", 2017 "ROOM", 2018 "Brixy 18", 2019 "Brixy Passion – 15 Jahre Kunst im Pumpwerk".
Painting and study sojourns in other European countries (since 2003: regular trips to the Canary Island La Palma, where his works on paper, which are part of the "Eden" series, have been created and continued since 2009) and in Malaysia, Mexico and Bali, as well as on the Seychelles and in the United States, among other places.
EXHIBITIONS 2009 – 2020
One Artist Shows (OAS), Group Shows (GS)
2020
Positions Berlin Art Fair with Galerie Tammen, Berlin (GS)
Galerie Barbara von Stechow, Frankfurt am Main, "Splashing Colours" (OAS)
CultureInside Gallery, Luxemburg "Action & Abstraction" (GS)
Christian Marx Galerie, Düsseldorf, "Happy Discover(y)" (OAS)
art KARLSRUHE with Galerie Tammen, Berlin (OAS)
art KARLSRUHE with Christian Marx Galerie, Düsseldorf (GS)
2019
Badenian Art Association, Member Exhibition, 2019, Karlsruhe (GS)
Stillleben II at Galerie Tammen, Berlin (GS)
Zermatt Selection, Zermatt, Switzerland (OAS)
Kunsträume Zermatt | The Heinz Julen Art Gallery, Zermatt, Switzerland (OAS)
Discovery Art Fair Frankfurt with Galerie Barbara von Stechow, Frankfurt (GS)
Traces in the Wind, Cheongju Crafts Biennale 2019, Korea (GS)
Old Pumping Station Neckarau "Brixy Passion – 15 years of art in the pumping station" (EA) with special guest: Thomas Röthel (Galerie Tammen, Berlin)
Positions Berlin Art Fair with Galerie Tammen, Berlin (GA)
Gallery Weekend Berlin, Double Exhibition with Thomas Röthel in Tammen & Partner Gallery (GS)
MAC Fort Lauderdale, MASS District Art Walk, Fort Lauderdale, USA (GS)
MAC Jupiter Gallery, "Other Worlds. Sara Conca and Dietmar Brixy", Jupiter (Palm Beach), USA (GS)
art KARLSRUHE with Tammen & Partner Gallery, Berlin (OAS)
art KARLSRUHE with Christian Marx Gallery, Düsseldorf (GS)
MS Europa 2 with Thole Rotermund Kunsthandel, Hamburg "Brixy on the High Seas" (OAS)
CultureInside Gallery, Luxemburg "Discover Brixy" under the patronage of the German Embassy in Luxemburg (OAS)
2018
Positions International Art Fair Luxembourg with CultureInside Gallery, Luxemburg (GA)
Positions Berlin Art Fair with Tammen & Partner Gallery, Berlin
Old Pumping Station Neckarau, "Brixy 18 – New Works" (OAS) with special guest: Herbert Mehler (Tammen & Partner Gallery, Berlin)
Christian Marx Gallery, Düsseldorf "Brixy – Horizon" (OAS)
Galerie am Dom, Wetzlar, "Dietmar Brixy – Paintings" (OAS)
Municipal Gallery Villa Streccius, Landau "Room of the Others II" (GS)
White Porch Gallery , Miami Wynwood, USA, "Emerging Worlds II – Art Wynwood Edition 2018" (GS)
art KARLSRUHE with Tammen & Partner Gallery, Berlin (one artist show)
art KARLSRUHE with Christian Marx Gallery, Düsseldorf (GS)
Baden Art Society, Karlsruhe, Members exhibition (GS)
2017
Christian Marx Gallery, Düsseldorf "Masterpieces" (GS)
Old Pumping Station Neckarau, "ROOM" (OAS) with special guest: Andreas Theurer (Tammen & Partner Gallery, Berlin)
Positions Berlin with Tammen & Partner Gallery, Berlin (GS)
Gallery Cornelia Kamp, Sylt, "Brixy Surprise & Tomorrow" (OAS)
Tammen & Partner Gallery, Berlin "Brixy Surprise & Tomorrow" (OAS)
Cultural Center English Church Bad Homburg v. d. H. with Gallery Kunst in der Zehntscheune, "Dietmar Brixy und Jochen Schambeck. Leuchtfeuer: Licht, Farbe, Raum"
Kölner Liste with Christian Marx Gallery, Düsseldorf (GA)
Christian Marx Gallery, Düsseldorf (OAS)
European Parliament Brussels, Belgium (OAS)
art KARLSRUHE with Tammen & Partner Gallery, Berlin (GS)
art KARLSRUHE with Christian Marx Gallery, Düsseldorf (GS)
Prince House Gallery, Mannheim "Brixy Hommage an Robert Häusser"
Page Art Frankfurt with KunstRaum Bernusstraße, Frankfurt a. M. (GS)
White Porch Gallery, Miami Wynwood, USA "Brixy – Surprise" (OAS)
Baden Art Society, Karlsruhe, Members exhibition (GS)
2016
Miami Art Week – Red Dot Miami with Mac Fine Art, Fort Lauderdale, USA (GS)
Miami Art Week – Art for Equality with White Porch Gallery /R-House, Miami, USA (GS)
Affordable Art Fair Hamburg with Falkenberg Gallery for New Art, Hannover (GS)
Art Market Budapest with Tammen & Partner Gallery, Berlin (OAS)
Old Pumping Station Neckarau, "Tomorrow" (OAS) with special guest: Sabine Ostermann (Tammen & Partner Gallery, Berlin)
Positions Berlin with Tammen & Partner Gallery, Berlin (GS)
Jörg Schuhmacher Gallery, Frankfurt, "Rot, Red, Rouge" (GS) parallel to Season Start of Frankfurt Galleries
Art association Coburg, "Brixy – Surprise" (OAS)
"RathausART". Nuremberg gallery weekend with LandskronSchneidzik Gallery, Nuremberg (GS)
Kunst Salon Villa Najork, Leipzig (Dependence LS Gallery) "Brixy – Surprise" (OAS)
LandskronSchneidzik Gallery, Nuremberg, "Brixy – Surprise" (OAS)
CONTEXT New York. Brixy by "Art from Berlin" with Tammen & Partner Gallery (OAS)
Falkenberg Gallery for New Art, Hannover, "Brixy – Surprise" (OAS)
Stadtlandkunst. Forum for Cultural Worlds, Hamburg Harbour City, "Brixy – Springtime" (OAS)
R-House/White Porch Gallery, Miami, USA, "Brixy in Wonderland" (GS)
art KARLSRUHE with Tammen & Partner Gallery, Berlin (OAS)
art KARLSRUHE with Christian Marx Gallery, Düsseldorf (GS)
Art in Zehntscheune. Reimund Boderke, Bad Hamburg, "Come to Eden" (OAS)
BRAFA Art Fair, Brussels with Jörg Schuhmacher Gallery, Frankfurt (GS)
Christian Marx Gallery, Düsseldorf, "Grand Opening" in "stilwerk" (GS)
Baden Art Society, Karlsruhe, Members exhibition (GS)
2015
CONTEXT Art Miami by "Art from Berlin" with Tammen & Partner Gallery (OAS)
Jörg Schuhmacher Gallery, Frankfurt, "Discover. Brixy" (OAS)
Christian Marx Gallery, Düsseldorf, relocated, Grand Opening in "stilwerk" (GS)
Old Pumping Station Neckarau, "Surprise" (OAS) with special guest: Patricia Waller (Tammen & Partner Gallery, Berlin)
Art association Leimen, "Chosen Home – Trusted landscape. Becker, Brixy, Kunze" (GS)
Tammen & Partner Gallery, Berlin. Parallel to Art Week Berlin "Brixy, Eilergerhard" (OAS)
Art Sylt with Kunsthaus ARTES, Hannover (GS)
Mac Fine Art, Fort Lauderdale, Brixy by "XXL Abstracts" (GS)
Hafenliebe Gallery, Hamburg, "Discover. Brixy" (OAS)
Christian Marx Gallery, Düsseldorf, "Discover. Brixy" (OAS)
art KARLSRUHE with Tammen & Partner Gallery, Berlin (OAS)
Wynwood Warehouse Project and R-House/White Porch Gallery, Miami "Discover Beyond" (GS)
Baden Art Society, Karlsruhe, Members exhibition (GS)
2014
Wynwood Warehouse Project, Miami, "Miami Mix" (GS)
White Porch Gallery / R-House, Miami, "Art for equality" (GS)
CONTEXT Art Miami by "Art from Berlin" with Tammen & Partner Gallery (OAS)
Art FAIR, Cologne with Christian Marx Gallery, Düsseldorf (GS)
Art Society Schwetzingen, recipient of the "WELDE audience award" (OAS)
Art Market Budapest with Tammen & Partner Gallery, Berlin (OAS)
Old Pumping Station Neckarau, "TEN – Ten years art in the Old Pumping Station" (OAS) with special guests: Anke Eilergerhard, Detlef Waschkau (Tammen & Partner Gallery, Berlin)
Christian Marx Gallery, Düsseldorf, "Fine Art Summer" (GS)
Gallery Cornelia Kamp, Sylt, "Discover. Brixy" (OAS)
Stadtgalerie Mannheim " 20 years WELDE art award" (GS)
Gallery Tammen & Partner, Berlin, "Discover. Brixy" (OAS)
art KARLSRUHE with Tammen & Partner Gallery, Berlin (OAS)
R-House/White Porch Gallery, Wynwood Arts District, Miami "Discover Brixy" (OAS)
Baden Art Society, Karlsruhe, Members exhibition (GS)
2013
R-House/White Porch Gallery, Wynwood Arts District, Miami, "Brixy Launch USA" (OAS)
CONTEXT Art Miami Brixy by "Art from Berlin" with Tammen & Partner Gallery, Berlin (OAS)
Contemporary Istanbul with Tammen & Partner Gallery, Berlin (OAS)
Old Pumping Station Neckarau, "Achtung Brixy" (OAS) with special guests: Marion Eichmann, Lothar Seruset (Tammen & Partner Gallery, Berlin)
art studio fael, Hannover, "Discover. Brixy" (OAS)
Biesenbach Gallery, Köln, "Summer of Paper" (GS)
White Porch Gallery, Provincetown, "Discover. Brixy" (OAS)
Wasserturm Mannheim – Friedrichsplatz , "Long night of the museums '13", Brixy-show in the most famous building of the city of Mannheim (OAS)
Gallery Arrigoni, Baar/Zug, CH, "Discover. Brixy"
art KARLSRUHE with Tammen & Partner Gallery, Berlin (OAS)
Kunsträume Zermatt, CH, "Discover. Brixy" (OAS)
Tammen & Partner Gallery, Berlin, "Annual Exhibition" (GS)
2012
Tammen & Partner Gallery, Berlin, "Christmas Exhibition" (GS)​
Worms Art Society, "Consider Wagner" (GS)
Old Pumping Station Neckarau, "Discover" (OAS) with special guest: Herbert Mehler (Tammen & Partner Gallery, Berlin)
Tammen & Partner Gallery, Berlin, "Eden in Berlin" (OAS)
art KARLSRUHE with Arthea Gallery, Mannheim (OAS)
2011
Baden Art Society, Karlsruhe, Members exhibition (GS)
Clinic Ludwigshafen "New Works" (OAS)
Sparkasse Heidelberg, "Eden" (OAS)
Brixy print chosen to cover a 400 m² building facade (detail from the painting "Rapture" from the Ripe and Juicy series)
ART.FAIR 21 Cologne with Arthea Gallery, Mannheim (OAS)
art KARLSRUHE with Arthea Gallery, Mannheim (OAS)
Commerzbank Hamburg (GS)
2010
Old Pumping Station, Mannheim-Neckarau "Seven" (OAS)
Schwetzingen Art Society, "Animal Art" (GS)
Schwetzingen Art Society (OAS) and Worms Art Society (OAS) "Ripe & Juicy" in the orangerie of the Schwetzingen palace
art KARLSRUHE with Arthea & Lauth Gallery, Mannheim (OAS)
2009
Old Pumping Station Mannheim-Neckarau "Eden" (OAS)
Minister of State in the Federal Chancellery and Federal Government Commissioner for Culture and the Media, Bernd Naumann, visits Brixy in Old
Old Pumping Station Mannheim-Neckarau; Schiller Days Mannheim (project work)
GALLERIES SINCE 1995
Barbara von Stechow Gallery, Frankfurt (OAS + GS)
Tammen Gallery, Berlin (OAS + GS)
Christian Marx Gallery, Düsseldorf (OAS + GS)
Arrigoni Gallery, Baar/Zug, CH (OAS)
arthea Gallery, Rosengarten, Mannheim (OAS)
Monika Beck Gallery, Homburg (OAS)
Biesenbach Gallery, Cologne (GS)
Peter Breuer Gallery, Zwickau (OAS)
el-ga-le-rie, Karlsruhe (OAS)
Falkenberg Gallery for New Art, Hannover (OAS)
Angelo Falzone Gallery, Mannheim (OAS + GS)
Francaise Gallery, Munich (OAS)
Hafenliebe Gallery, Hamburg (OAS)
Heufelder-Koos Gallery, Munich (OAS)
Kunsträume | The Heinz Julen Art Gallery, Zermatt, Switzerland (OAS)
Cornelia Kamp Gallery, Keitum – Sylt (OAS)
LandskronSchneidzik Gallery, Nuremberg, "Brixy – Surprise" (OAS)
Saby Lazi Gallery, Stuttgart (OAS)
Mac Fine Art, Fort Lauderdale, USA (GS)
Stadtlandkunst. Forum for Cultural Worlds. Hamburg Harbour City(OAS)
Jörg Schuhmacher Gallery, Frankfurt (OAS)
Vigny Gallery, Munich (OAS)
Weisses Haus Gallery, Wuppertal (OAS)
White Porch Gallery, Provincetown, USA (OAS)
White Porch Gallery/R-House, Wynwood Arts District, Miami, USA (OAS)
Kunst in der Zehntscheune. Reimund Boderke, Bad Homburg (OAS)
Zezhong Gallery, Peking, China (OAS)
Zulauf Gallery, Freinsheim (OAS + GS)
INSTITUTIONS, MUSEUMS AND ART SOCIETIES SINCE 1995
Commerzbank, Hamburg (GS)
Commerzbank, Mannheim (GS)
Volksbank, Weil der Stadt (OAS)
European Parliament Brussels, Belgium (OAS)
Culture Foundation Rhein-Neckar-Kreis, Dilsberg (GS)
Fruchthallen, Kaiserslautern (GS)
Gallery of Hoechst AG, Frankfurt (OAS)
State Garden Show, Hockenheim (GS)
University of Pforzheim (GS)
Baden Art Society, Karlsruhe (GS)
Leimen Art Society (GS)
Mannheim Art Society (OAS + GS)
Salon d' Automne International de Luneville, France (GS)
Schwetzingen Art Society (OAS + GS)
Worms Art Society (OAS)
Nationaltheater, Mannheim (GS)
Museum Baden, Solingen-Gräfrath (GS)
Museum for Technology and Work, Mannheim (GS)
Pfalz Gallery, Kaiserslautern (GS)
Reißmuseum, Mannheim (GS)
Municipal Gallery Villa Streccius, Landau (GS)
Wilhelm-Hack-Museum, Ludwigshafen (GS)
FAIRS SINCE 1999
ART.FAIR 21 Cologne, Germany
ART Frankfurt, Germany
ART Innsbruck, Austria
art KARLSRUHE, Germany
Art Market Budapest, Hungary
Art Sylt, List, Germany
Biennale Internazionale Dell'Arte Contemporanea Florence, Italy
BRAFA Art Fair, Brussels, Belgium
Cheongju Crafts Biennale, Korea
Contemporary Istanbul, Turkey
CONTEXT Art Miami, USA
CONTEXT New York, USA
Discovery Art Fair, Frankfurt, Germany
Positions Berlin, Germany
Positions International Art Fair, Luxemburg
Red Dot Miami, USA
Vienna Art, Austria