Digital Exhibition at the Christian Marx Gallery
Creativity is particularly important in difficult times. After all, how can an artist or gallery owner present works if no public events are permitted? As in so many other areas, digitization offers a wide range of possibilities. Although a virtual exhibition in digital spaces is not a new invention, for many it is a new discovery. Especially in times of contact restrictions and event bans due to the given corona situation, virtual exhibitions are an ideal way to present art in a realistic environment.
It is about offering an alternative to those interested in art, but also about continuing to show presence as an art scene. For this reason, the Christian Marx Galerie from Düsseldorf will be presenting various works by Brixy digitally from 5 June to 31 August 2020.
As soon as you enter the digital exhibition, you will find yourself in a modern, bright presentation room. A small blackboard provides information about the artist, just like in a real gallery. With the mouse you move in the three-dimensional art room, past the walls with Brixy's colourful pictures. With only one click the picture enlarges. The visitor can zoom in and out and thus explore details in peace and quiet.
HAPPY  celebrates premiere in digital exhibition
There is a lot to discover. Entering the virtual exhibition, a picture of the new series of works HAPPY awaits the visitor directly to his right. It is all about the question of whether one can still be happy in this day and age.
For Brixy, happiness lies in experiencing nature. It is an everlasting source of inspiration in his work. As in so many of his paintings, branches and leaves weave their way across the canvas in his latest work. Massive garlands meander across the surfaces, forming organic structures and tapering into filigree lines. Fig leaves sprout from them, then melt away. Perhaps a symbol of transience? The line plays an important role in Brixy's works. It possibly stands for different paths of life, which are closely intertwined and then drift apart again.
In the paintings of his HORIZON series, the line forms a vivid symbol of the fusion of heaven and earth. The fascination of the view into the horizon is deeply rooted in human beings. Brixy takes us into mysterious worlds, he opens wide landscapes and thus the space for free association.
Brixy never fixes the viewer. Rather he encourages a closer look. In this way, individual levels, shapes and also shades become visible, culminating in an expressive overall play of light and colour. In his DISCOVER works, Brixy creates luminous worlds of images that challenge the viewer's perspective. Deep, contrasting levels emerge and create a vibrant pictorial experience that rotates between representationalism and abstraction.
The digital exhibition - a happy discovery
Viewing a Brixy work one can experience many  "happy discoveries". What makes me happy? What is important to me? These are subtle questions that grow with your own perception. Happiness, like everything, is transient. Only memories live on. And often art can stimulate them, give them a new shape. Even in virtual space these mechanisms work, if you allow them to. Join Brixy on a virtual tour of discovery and embark on the search for happiness.
This is what gallery owner Christian Marx says:
"Wander through our exhibition on your home computer and discover the incredible power of Dietmar Brixy's pastose painting. Refreshingly, the new series of works "Happy" shows us the joyful use of color and form!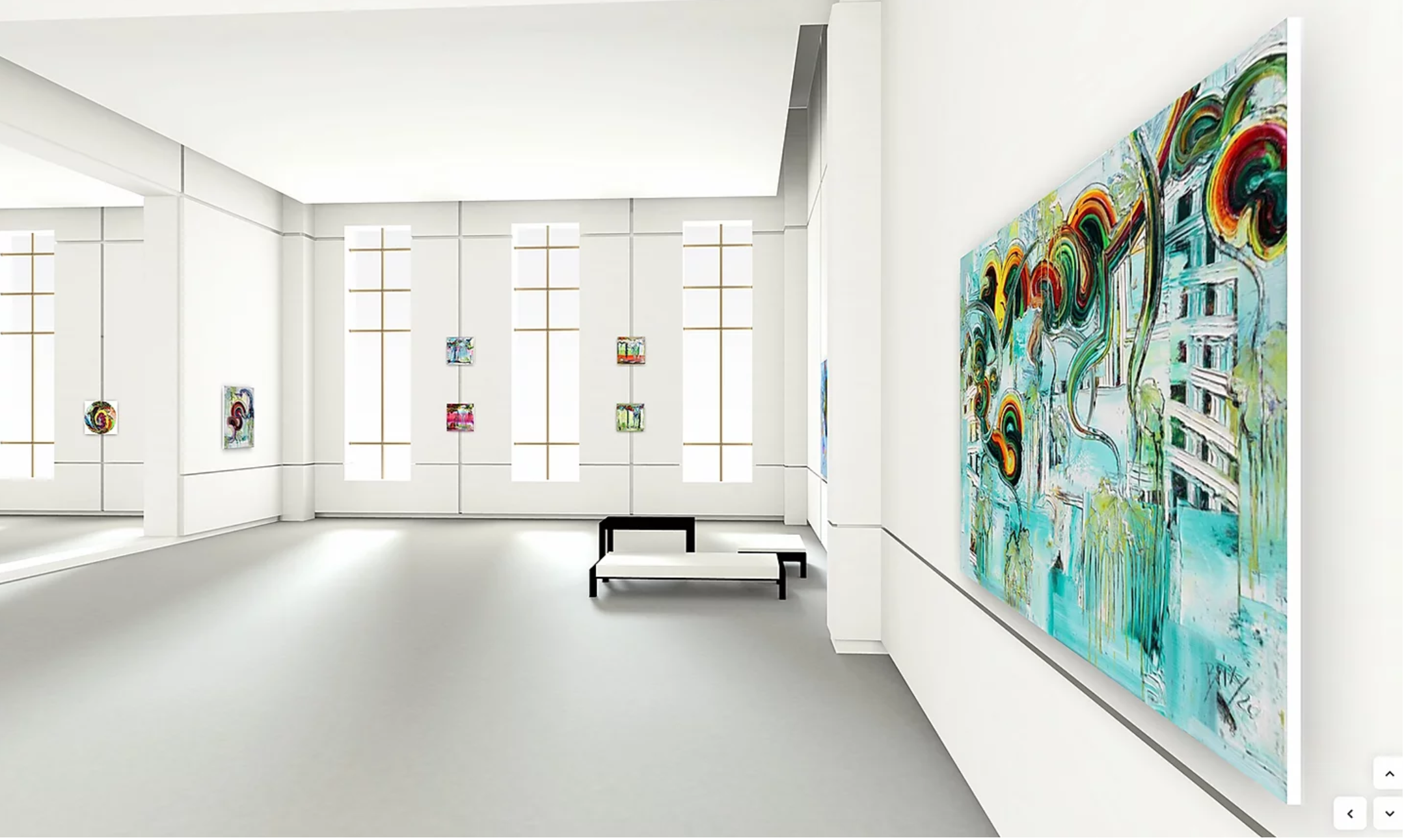 Here you can go directly to the virtual exhibition of the Christian Marx Gallery.
Exhibition Duration
05. June to 31. August 2020