LANDSCAPE I - this is the title of the first annual exhibition 2021 of the Tammen Gallery. The group exhibition will present a wide variety of positions from the fields of painting, drawing, photography and sculpture. A catalog and a film will be published for this first exhibition supported by the federal funding program KULTUR NEUSTARTEN of the Ministry of Culture and the KUNSTFONDS foundation.
On the occasion of the exhibition LANDSCHAFT I a catalog will be published. This catalog as well as a video of the complete exhibition can be viewed online on the website of Tammen Gallery from February 7.
The participating artists in the exhibition are:
CHRISTIAN BARHO – HOLGER BIERMANN – DIETMAR BRIXY – MORITZ GÖTZE – SAM GRIGORIAN – HEIKE JESCHONNEK – JINY LAN – VOLKER LEYENDECKER – ELLEN MÄDER-GUTZ – SABINE OSTERMANN – ANDREAS THEURER – UWE WOHLMACHER
What does the artist Brixy present?
At the exhibition LANDSCAPE I the artist Brixy will be present with his round paintings, the so-called Bamboo Bubbles. A late onset of winter in March 2006 leads to the variation of the bamboo theme. The otherwise steeply rising shoots of the plants bend under the heavy snow load in a semicircle to the ground. The painter reflects this twice: in the painted circular forms as well as in the format of the round picture, the tondo.
Brixy's "Bamboo Bubbles", a multifaceted cosmos in which everything revolves around growth energy and flexibility, is created.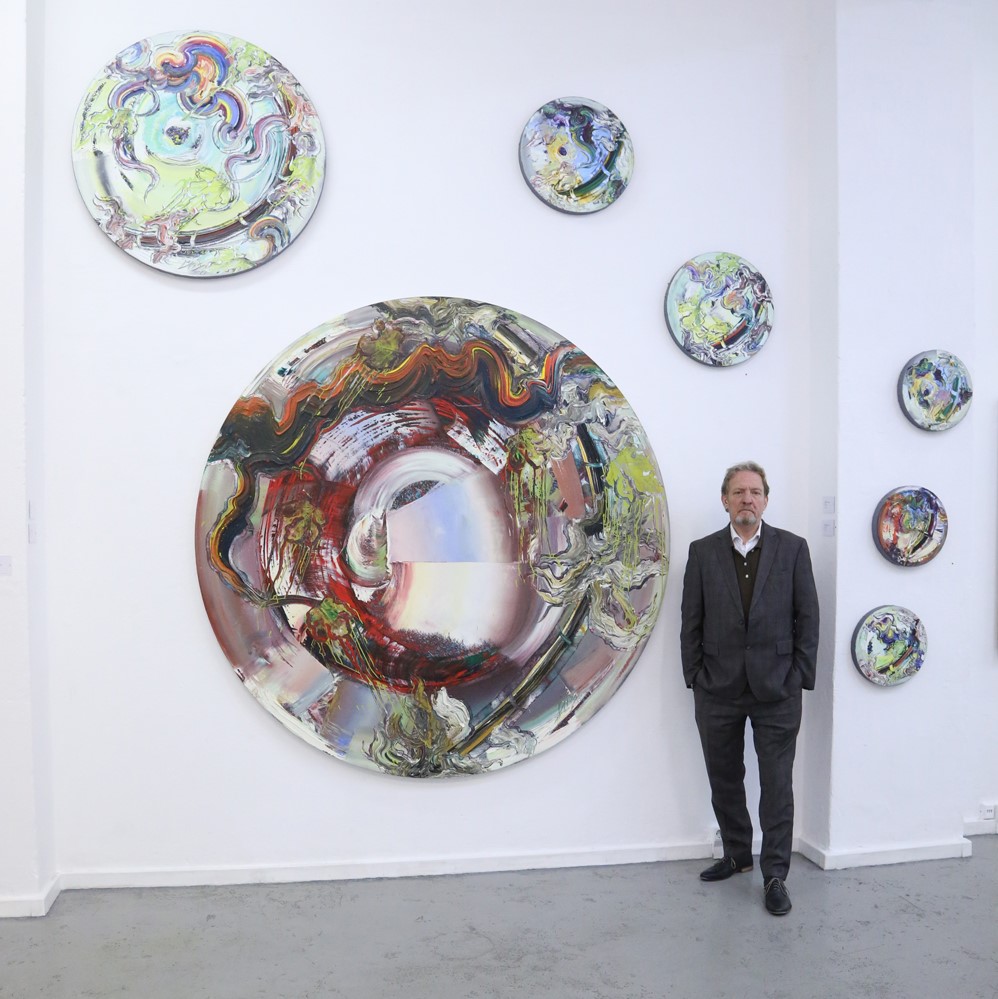 Gallery owner Werner Tammen in front of Bamboo Bubbles Installation
Bamboo Bubbles, 2020, oil on canvas, diverse formats
This is what the art historian Dr. Dorothée Bauerle-Willert says about the circular paintings of the artist Brixy
Unconventional and free, Dietmar Brixy's iridescent tondos take up the growth energies of nature, its rondo; in a spiral movement from one to the other, the art forms of nature are transferred into nature forms of art. The circular paintings thus reflect and play out the "dialectic of nature and counter-nature," of figuration and abstraction. The elastic lines of color intertwine, intertwine, form - almost as if by themselves - inward growths, open vistas. View of nature is transformed into an artificial structure, but in such a way that the process transformation, which includes before and after, remains vivid. The principle of sequence, grouping, and repetition employed in the Bamboo Bubbles series refers on the one hand to natural growth processes, but on the other hand - and almost in paradox - incorporates formal strategies of serial art.
(Source: Catalog for the exhibition LANDSCHAFT I of the Tammen Gallery, 2021)
Exhibition title: LANDSCAPE I
Form: Group exhibition
Date: 07.02. - 05.04.2021
Appointments: info@galerie-tammen.de | Tel.: +49 (0)175 206 1942 | Doodle-Link 
HERE YOU CAN LEARN MORE ABOUT THE GALLERY TAMMEN - GALLERY PORTRAIT