Tammen Gallery is a contemporary art gallery located in Berlin. The gallery represents and presents renowned artists in an extensive exhibition program in the fields of painting, sculpture & photography. It is present at international and national exhibition venues. As a gallery it is active in the professional associations BVDG (Federal Association of German Galleries) and LVBG (Berlin Galleries Association). The gallery owner Werner Tammen is chairman of the Landesverband Berliner Galerien and member of the advisory board of the art fair art KARLSRUHE.
History of the Tammen Gallery
Gallery Tammen exists for more than 40 years. The gallery was founded in 1979 as Galerie am Chamissoplatz. It acquired cult status for its primary profile as a gallery for satirical media, comics, caricature and cartoon in the 80s. After reunification in 1990, it expanded into the Tammen & Busch Gallery in the Kreuzberg neighborhood on Fidicinstrasse. In 2006, a move to larger premises took place in the immediate vicinity of Checkpoint-Charlie. In 2010, the gallery moved to ideal premises on the corner of Friedrichstraße and Hedemannstraße. This is still located in Berlin-Kreuzberg, not far from Checkpoint-Charlie.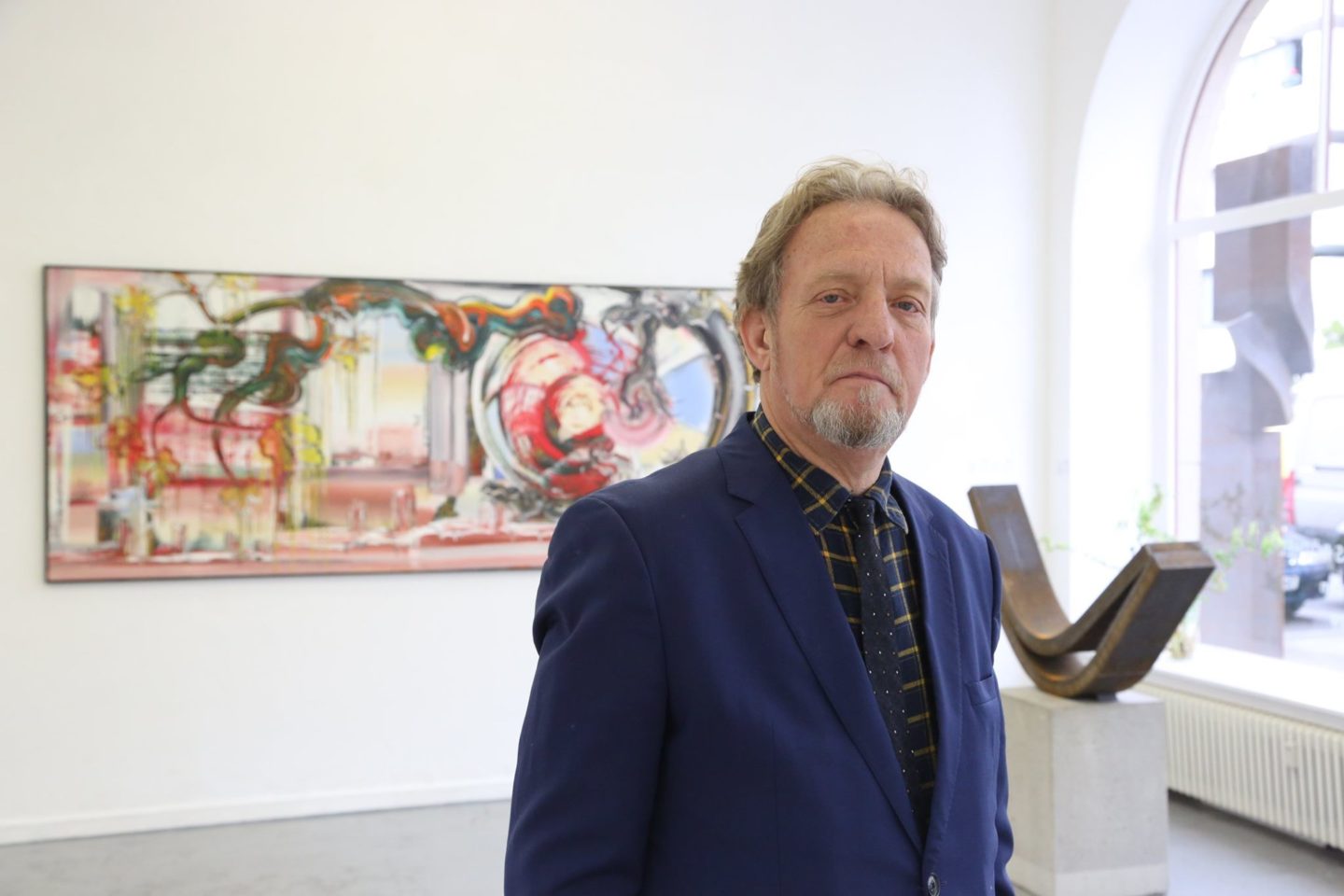 Gallery owner Werner Tammen
This is what gallery owner Werner Tammen says about Brixy
Werner Tammen tells about the works and the long lasting cooperation of the gallery Tammen and the artist Dietmar Brixy
The artist Dietmar Brixy I know and represent for many years. Addressed by him at the time, I visited him, in Mannheim in his extraordinary refuge "Altes Pumpwerk Mannheim-Neckarau". A very special place of which in the meantime, I believe, thousands are also fascinated, if you visit it on the occasion of annual exhibitions. It is a refuge with designed nature - outside, quasi a natural garden, and a culturally sensitive redeveloped industrial monument - inside.
It has been built up over the last 20 years by him and his life partner David Richardson and successively made known to the public. The place itself is an industrial monument. Many are fascinated by the works of the artist Dietmar Brixy. Among them is the former director of the Kunsthalle Mannheim and current president of the Klassik Stiftung Weimar, Dr. Ulrike Lorenz. She made it clear in a text for a large catalog by Brixy: "Place determines painting, painting animates place." That sums it up very well.
From an insider tip to a must-attend event every year
Brixy and his staff have always understood, also through large annual actions in late summer, to make the house public and to give guest artists of the gallery Tammen, mainly sculptors, the chance to present themselves there together with him, to a large and broad audience. This makes the place interesting again in a very special way. A development from an insider tip, to a compulsory date in the year. A large number of guest artists on our part were already in the old pumping station. Be it the now increasingly well-known paper artist Marion Eichmann, the artists Lothar Seruset and Andreas Theurer, or recently this year, the very interesting young artist Matthias Garff. With his very contemporary works, he hits the nerve and creates quite a furor on the art market.
Brixy represented at international trade fairs
Our gallery has represented Brixy not only nationally but also internationally due to very good and loyal arrangements. We were at major fairs in Istanbul, Budapest, Miami and New York. And always important, also the presence at the German art fair Art Karlsruhe, where we have always presented him very predestined. Thus, we have altogether also made clear how much we appreciate his painting! Personally, I have always been fascinated by the fact that it is quite recognizable that he comes from sculpture.
He originally studied sculpture and later switched to painting. But I think you can see the sculptural signature in his work (he would also never deny it). Works that are very impasto applied oil paintings that always explore the theme of nature in a very intense way. He is inspired by foreign travel. Not only to our fair appearances. It also drives him to the Caribbean or on major international trips and always fascinated by these impressions he returns to his refuge, closes the doors and deals exclusively in the form of his painting with the experienced and seen.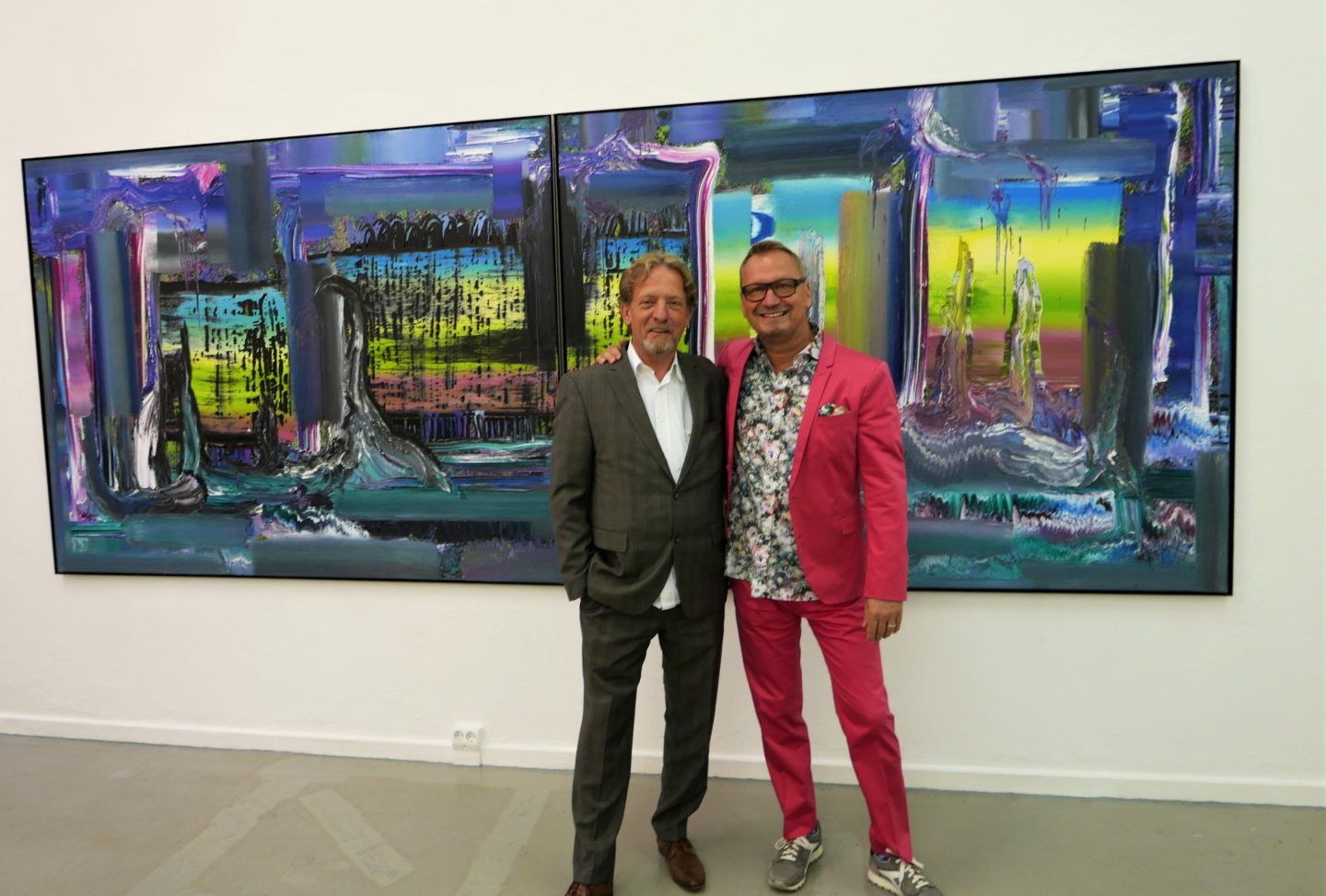 Gallery owner Werner Tammen and artist Dietmar Brixy
New exhibition 2021 on the theme "Landscape"
We are pleased that we can present Brixy after a busy and exciting Corona year, right at the beginning of the year in the large exhibition on the theme of "Landscape" also here with us in the gallery. A topic, which is of course also influenced by the Corona situation certainly and will increase. The view of it, the perhaps new view of romance in the classical sense, but also with completely new visual languages, which we try to bring together here in an exhibition.
Brixy will be present in the exhibition with his tondos. Round pictures he makes since 2006 and which is very strongly influenced by nature, respectively by the representation and natural behavior of bamboo. Bamboo that sways under the weight of snow and takes on completely new forms. His garden is full of bamboo he has planted himself. It is therefore a direct vision that surrounds him every day. This has very much motivated and influenced him to create these circular paintings and appears again and again in his works. We are pleased that we can show here his works from the large two-meter formats to the small sensitive formats. Further appearances are then among other things already at the art fair art Karlsruhe, which was postponed to Whitsun, where we will also show him again in a beautiful duet with the sculptor Matthias Garff.
We are looking forward to this further engagement with an artist who is increasingly coming into the public spotlight and is also increasingly being noticed internationally!
BRIXY AND THE TAMMEN GALLERY
Exhibitions Examples:
Positions Berlin Art Fair with Galerie Tammen, Berlin (GS), 2020
art KARLSRUHE with Galerie Tammen & Partner, Berlin (one artist show), 2019
Positions Berlin Art Fair with Galerie Tammen & Partner, Berlin, 2018
Galerie Tammen & Partner, Berlin, "Brixy Surprise & Tomorrow" (one artist show), 2017
CONTEXT New York. Brixy "Art from Berlin" mit Galerie Tammen & Partner (one artist show), 2016
Art Market Budapest, with Galerie Tammen & Partner, Berlin (one artist show), 2016
art KARLSRUHE with Galerie Tammen & Partner, Berlin (one artist show), 2015
CONTEXT Art Miami "Art from Berlin" with Galerie Tammen & Partner (one artist show), 2014
Contemporary Istanbul with Galerie Tammen & Partner, Berlin (one artist show), 2013
Galerie Tammen & Partner, Berlin, "Eden in Berlin" (one artist show), 2012
Here you get an overview of further exhibition activities since 2009