The Mannheim artist Dietmar Brixy is opening the doors of the Altes Pumpwerk in Mannheim-Neckarau again this year for his exhibition "journey". From 23 September to 16 October, he invites art lovers on a tour of his artist's residence and presents compositions from his new series of paintings "JOURNEY" as well as selected works from earlier creative phases in the interior and exterior spaces of the industrial monument. The exhibition is complemented by sculptures by guest artist Lothar Seruset in cooperation with the Tammen Gallery from Berlin.
Journey – the promise of new worlds
Colourful, intense, and with a moving, stirring dynamic, the viewer is addressed and instinctively drawn into Dietmar Brixy's latest art. It is the colourful invitation to joy, to let go of thoughts, to feel freedom. The artist Dietmar Brixy's new series of paintings, Journey, instantly promises a feeling of departure. As in earlier series of works, the artist achieves a maximum of emotion through the unusual use of colour and structure, thus inviting us to embark on an exceptional journey through his pictorial worlds.
Dietmar Brixy's works are the expression of an intensive creative process – in the course of which the artist repeatedly reworks the composition of the painting to gradually approach the creative whole. Brixy begins with a black primed support, usually nettle or canvas, and, layer by layer, superimposes it with layers of colour conceived in tension and dynamism. What in the final result seems so natural and playful to the viewer is the powerful alternation of action and reaction, of applying colour and reducing it in the course of the creative process. For the artist, this is a continuous opening and closing of the pictorial surface in search of space and of new landscapes. In truth, however, this is not realistically tangible; it is rather Dietmar Brixy's desire to capture the idea and the feeling of a potential landscape in the language of colours. The interplay of shapes, colours and contours creates associations with diverse forms of vegetation, thus allowing all viewers to immerse themselves in their own respective world of experience and sensation.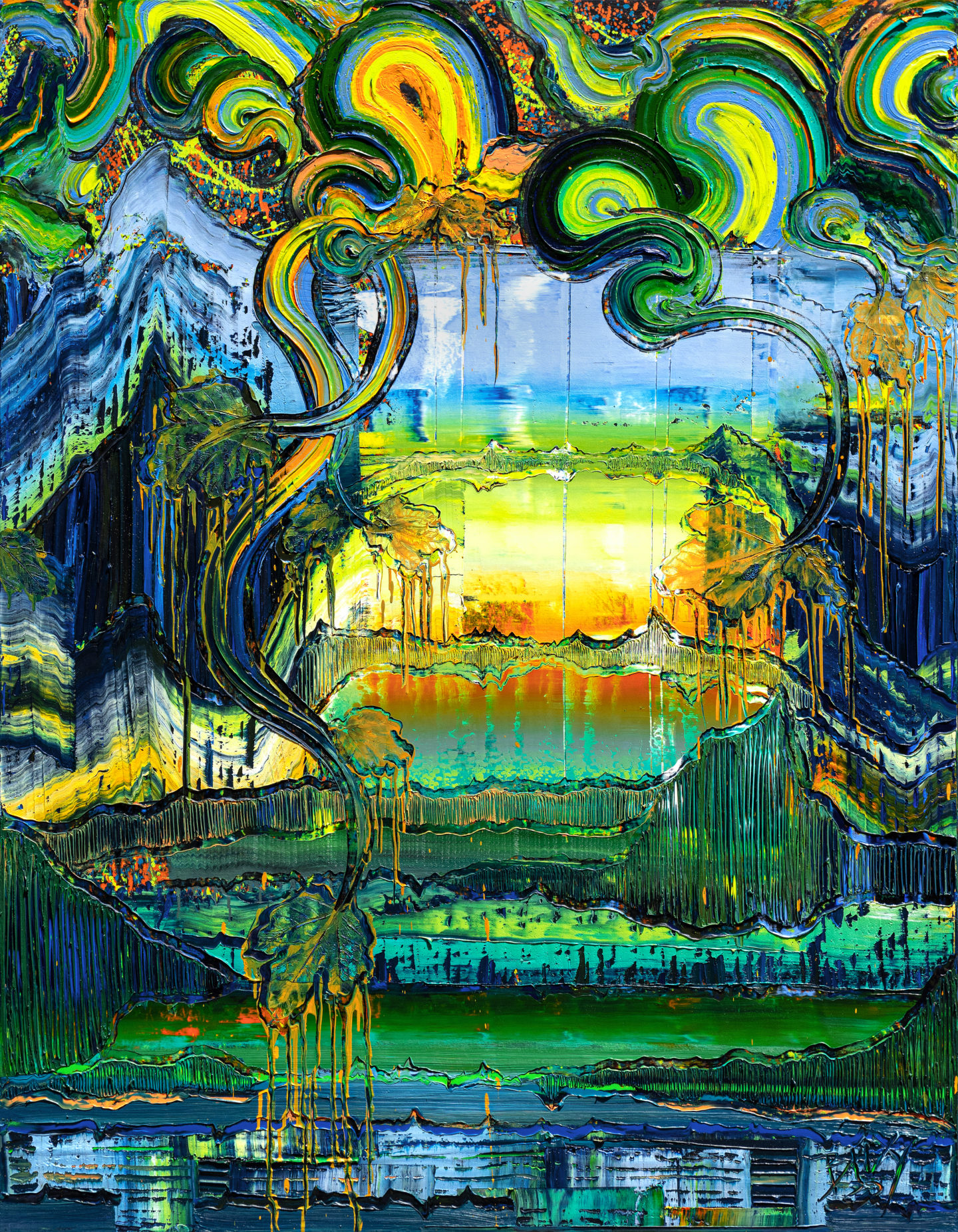 Journey, 2022, Öl auf Nessel, 180 x 140 cm
A striking feature of Journey are the extraordinarily bright colours: radiant yellow, warm orange, delicate green. The compositions reveal an almost early summer brightness, partly accentuated by the use of white as a valeur. Time and again, these bright colours contrast with dark greens and blues as if to intensify their radiance. Almost unconsciously, Dietmar Brixy lets the viewer dive deeper into the composition, level by level. Like a curtain pulled aside and upwards, the areas of colour created in dynamic movements reveal a delicate, shimmering centre. The viewer's approach to the works is enabled by Brixy's final level of aesthetic configuration. The striking fig leaves, dipped in diluted oil paint and then pulled out of the pastose paint, which dissolve the powerful movements like counterparts, offer the bridge between real nature and abstract landscape as a representational motif. Through the artist's varied handling of the material, vast territories, deep ravines or broken layers of earth are conjured up. In this series, Brixy once again achieves the impression of three-dimensionality. Deep blue surfaces are painted sharply upwards, pressing very close to the foreground of the picture. Superimposed horizontal stripes create the impression of alternating landscape levels as a transition into the depths of space – until finally, in the background of the picture, the sun-drenched, almost monochrome areas extend far into the supposed horizon. Each of these zones has its own character – it is applied over a wide area, sprayed, puttied. Dietmar Brixy works with his hands, spreading transitions, letting colour emerge from deeper layers or disappear under new structures. His palpable joy in the creative process is not only visible in many fragments, such as the pastose application of paint, but is inevitably transferred to the viewer. If one picks out individual details of a work, it becomes clear just how many images are 'hidden' in the picture. Subterranean lava flows can be fathomed, a deep dark sea surges over the moving seabed or hazy water mists rise up into the pale sky. Journey is a voyage through the world of colours, revealing the special knowledge of their haptics and the resulting associations.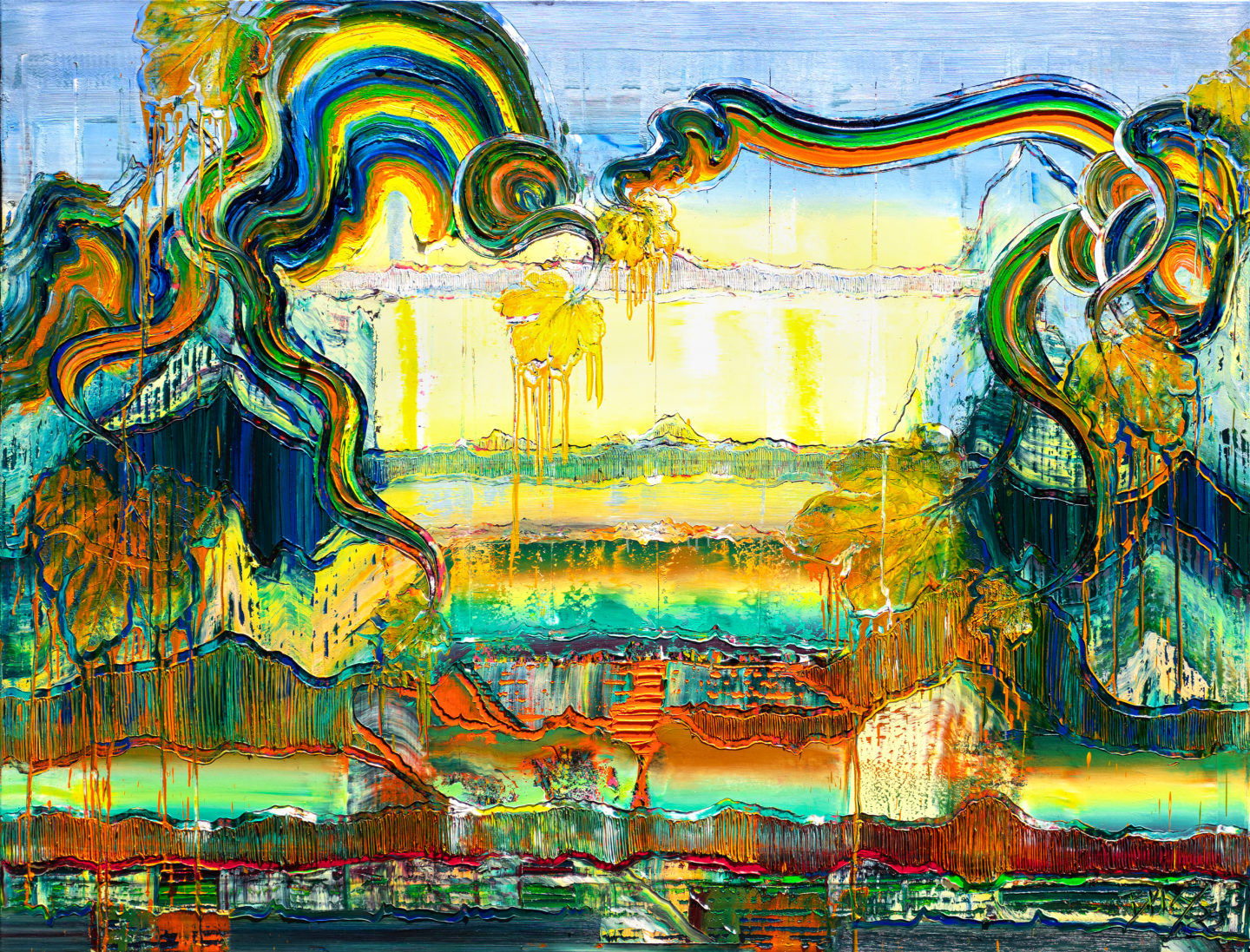 Journey, 2022, Öl auf Nessel, 160 x 210 cm
The choice of colour for this series unconsciously creates a valency that was already used centuries ago in painting for semantic emphasis. In many late medieval works, for example, Mary's blue cloak is in tension with gold-coloured backgrounds; in the baroque period, a dark hair band imbues even more lustre to a girl's delicate complexion; at the end of the 19th century, ripe wheat fields stand out against the deep blue sky; or in the paintings of classical modernism, the houses of Provence appear even warmer and friendlier against the cool blue of the sea. In Brixy's works, too, there is a close connection between the dialogue of colour, the contrast between light and dark and the value of the light-flooded centre. It appears as a positive place towards which the eye is involuntarily drawn and with which the viewer associates a sense of openness and lightness.
In this latest series, the title is to be taken literally: this is where a journey can begin. It starts with a first overall impression providing personal images and emotions, letting us travel further and inviting us to change perspectives, to look at things literally from a different point of view. This opens up new horizons, new destinations. It is a journey through the sphere of colours, through the world of the artist Dietmar Brixy as well as through our own personal worlds of memories and emotions with the aim of discovering something new.
by Simone Maria Dietz M.A., art historian
See the creation of "JOURNEY, 2022, oil on canvas, 160 x 420 cm (Diptychon)" by artist Dietmar Brixy from his current series of works JOURNEY.
Short biography Lothar Seruset
Born in Ulm in 1956, 1988 appointed master student at the Berlin University of the Arts with Prof. J. Schmettau and Prof. E. Strautmannis, 1988 - 1989 DAAD annual scholarship for the Netherlands/ Amsterdam, 1993 - 1995 Karl Hofer scholarship Berlin, then studio in the Panzerhalle Groß Glienicke until the demolition of the studio building. 2000 Realisation of a figure of Mary and St. Clare for St. Clare's Church in Ulm, 2005 Organisation of the exhibition "Memento Mori", Panzerhalle Groß Glienicke, travel grant from the city of Potsdam for Chur/Graubünden, 2006 working grant Künstlerhaus Lukas, Ahrenshoop, 2007 Organisation of the exhibition "water_please", das Schaufenster, FH Potsdam, Kunstverein Ulm. Then moved to the countryside, near Fehrbellin, close to Berlin, a horse stable, working and living, travelling and still a lot to do.
2015 Realisation of a large sculpture for Munich Airport on the occasion of the 100th birthday of Franz Josef Strauß, 2016 Realisation of a 6m high sculpture Dümmersee Hüde, 2018/19 Curator and project manager LAND(SCHAFFT)KUNST -Fontane lesen mach dir ein Bild davon- in the context of fontane.200, organised by Kulturland Brandenburg.
Scholarship of the State of Brandenburg / Künstlerdorf Schöppingen
2022 Revierwechsel 2 , Iannis Xenakis, Hochdrucksymposium Museum für Druckkunst und Galerie HOCHDRUCKPARTNER Leipzig.
"But what characterises this sculpture also applies to most of the others, which at first glance appear comical or grotesque - but have a subversive wit, wit in the true sense, i.e. they turn the world upside down in a witty and philosophical way, offer a different perspective and thus reveal many an absurdity of our lives. In doing so, they are not always easy to put into words - and that's a good thing, because then they would already be tamed again and made "harmless". Their exuberant, contradictory, rich visual language eludes simple interpretations and gives all the more room for thought."
by Uta Kuhl, art historian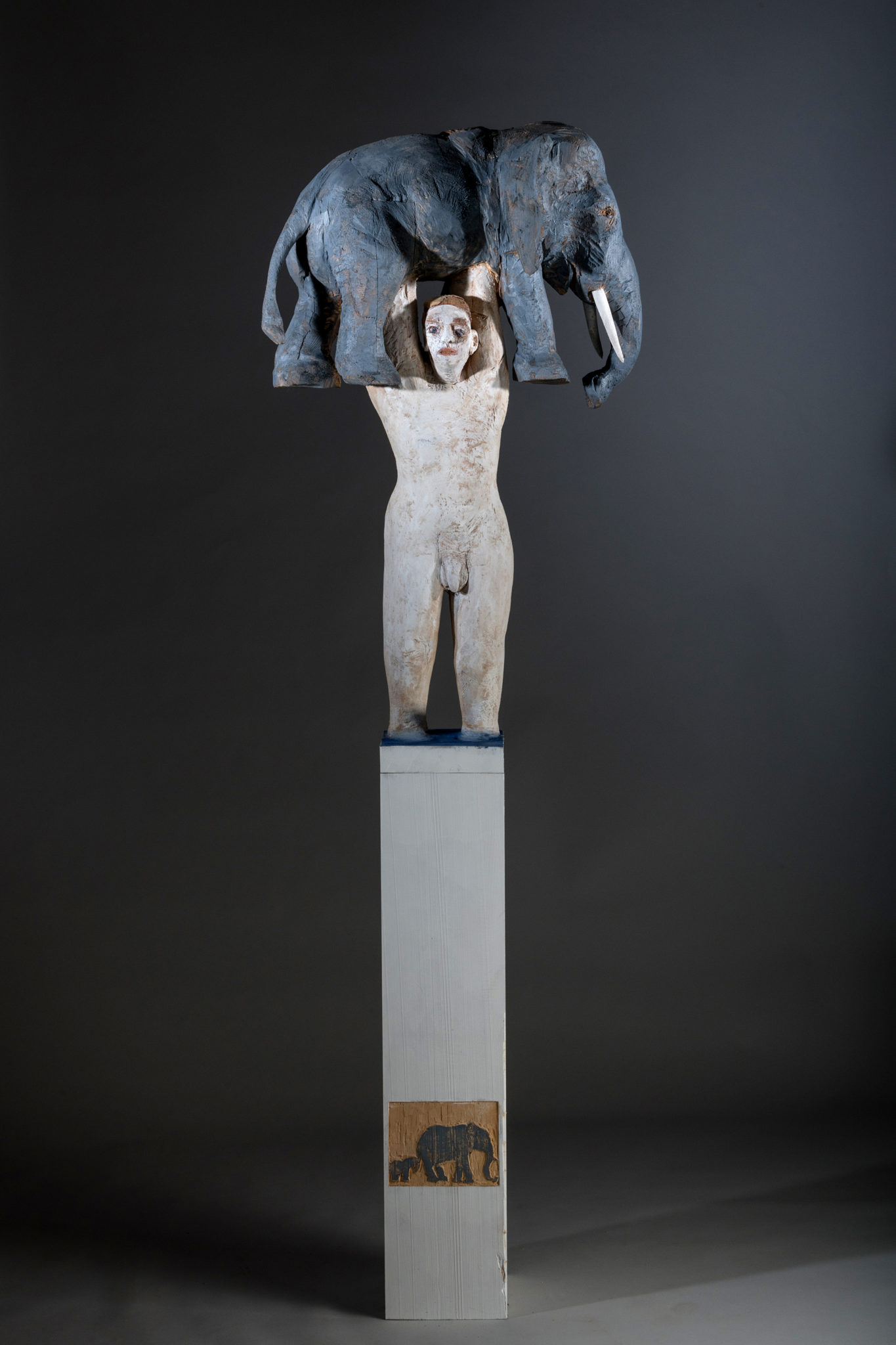 Christoph, 2021, Holz bemalt,  190 x 70 x 50 cm
What:
Exhibition "journey" from artist Dietmar Brixy.
Special Guest Galerie Tammen, Berlin with Lothar Seruset - Sculptures.
Where:
Altes Pumpwerk Mannheim-Neckarau, Aufeldstraße 19, 68199 Mannheim
When:
23. September - 16. October 2022
Opening hours:
Friday 2 pm - 7 pm, Saturday and Sunday 11 am -4 pm and by arrangement
Parking:
Sufficient parking spaces are available in the car park of the GKM Mannheim administration building.