ACTION & ABSTRACTION - Exhibition at CultureInside Gallery in Luxembourg
Many artists and galleries have taken a little - perhaps involuntary - time out in 2020. But even in times of standstill, neither Brixy nor his gallery owners were idle. From June 4, the time has finally come again: paintings from the HORIZON series, together with works by artists Pierre-Luc Poujol and Jacques Nestlé, make up the exhibition "Action & Abstraction". They will be exhibited from June 04 to September 05, 2020 at the Luxembourg CultureInside Gallery.
Energetic, stormy seas of colour - these are associations that many people associate with Brixy's art. His works never stand still. When looking at them, new details always stand out, the angle of vision changes, one is in constant motion to grasp the manifold streams of colour in their entirety. But even one's own interpretation does not remain rigid, sometimes one thinks one sees a river, then again a branch. Or a fork in the road?

Detail from Brixy Painting, Horizon, 2019, 80 x 80 cm
The Action & Abstraction concept is unmistakably inherent in Brixy's artworks
Shapes, colours and levels meet, interlock, and at the same time push apart again. The concept of Action & Abstraction is unmistakably inherent in Brixy's works of art. The very first act of painting is marked by the artist sprinkling a black primed canvas with countless coloured dots in the manner of action painting. But even after that, the creative process remains a veritable tour de force when Brixy reaches into the paint and shapes it on the canvas, only to later scratch out forms and lines with spatulas, combs and other tools.
In the HORIZON series this actionism can be seen in many different ways: Colorful garlands of paint rage over the scenes. Behind them, differently designed layers of light and shadow form a perspective view into unknown landscapes. Again and again, the black background flashes curiously out, but disapears behind melting fig leaves.
Even though the title "Horizon" was chosen quite programmatically, Brixy's paintings are abstract in their associative gestures. The horizon stands for the distant encounter of heaven and earth and is thus a symbol of longings, utopias, and ultimately the crossing of boundaries. This contrasting interplay of representationalism and abstraction is inherent in all of Brixy's works. In HORIZON in particular, it opens up the legibility of the pictures. The obvious is combined with imagination and leaves room for interpretation.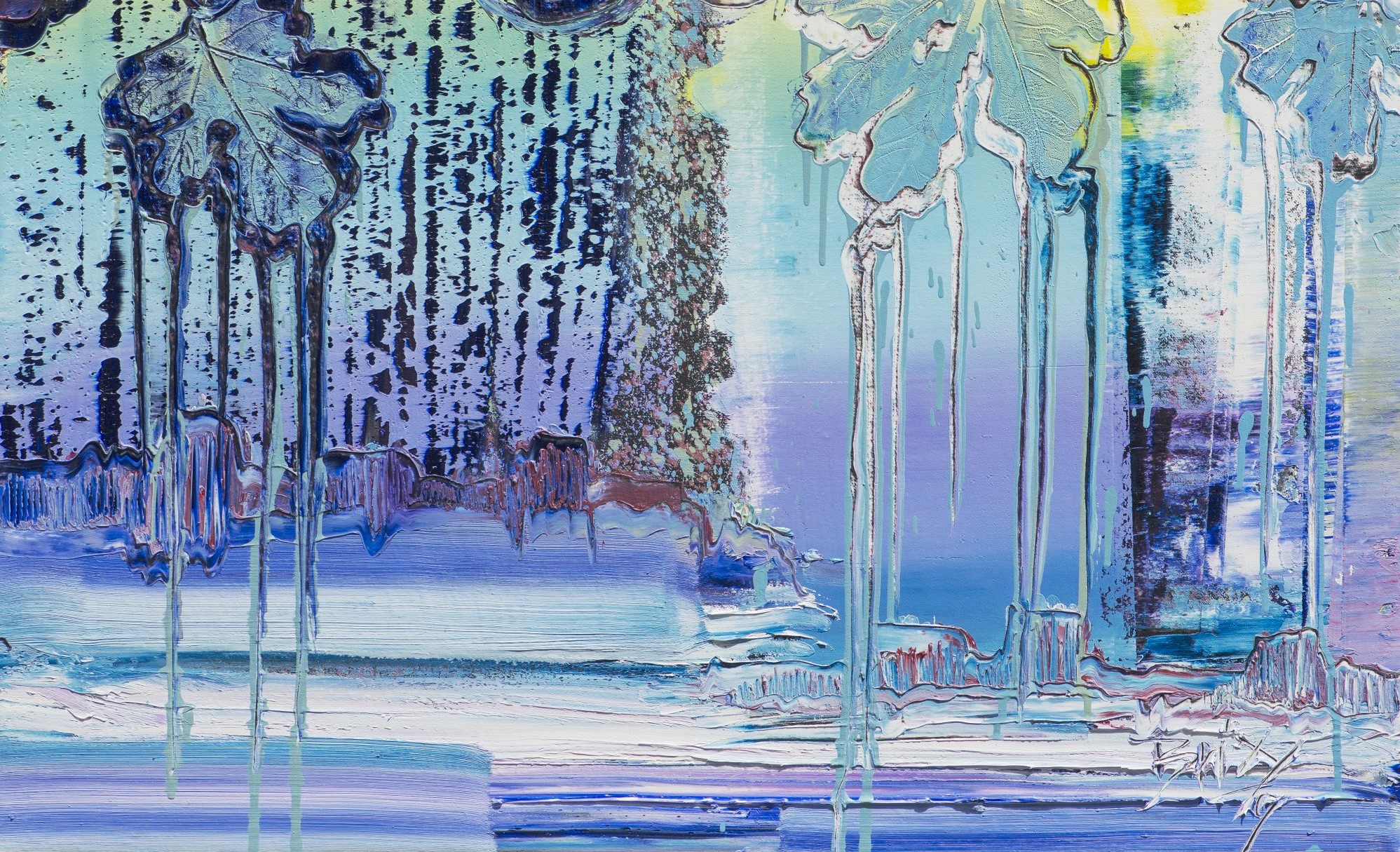 Detail from Brixy Painting, Horizon, 2019, 80 x 80 cm
This is what gallery owner Gila Paris says:
In his own artistic cosmos, Brixy creates a world of pictorial possibilities full of fantasy for the spectator, who is drawn into stormy seas of paint, landscapes of caves, and ancient mythological scenarios. His oeuvre is a permanent quest, ostentatiously creative and richly varied, a transformation of his own existence into currents of color, an intense transformation into poetry of experiences that represents a continuous assertion of life.
Opening hours
04. June - 05. September 2020 only by appointment
If you too would like to get an idea of Brixy's HORIZON series, the artist cordially invites you to visit the exhibition "Action & Abstraction" at the CultureInside Gallery in Luxembourg. Due to the current regulations, a prior appointment is necessary.
More
Registrations and general information can be found on the gallery page.