Mannheim artist Dietmar Brixy is opening the doors of the "Altes Pumpwerk" in Mannheim-Neckarau again this year for his exhibition "REFLECT". From 24 September to 17 October, he invites art lovers to a tour of his artist's residence and presents compositions from his new series "REFLECT" as well as selected works from earlier phases in the interior and exterior spaces of the industrial monument. In cooperation with the Galerie Tammen from Berlin, the exhibition is complemented by sculptures by guest artist  Sonja Edle von Hoeßle. The spacious presentation areas offer visitors the opportunity to keep the proper minimum distance.
The current series is entitled REFLECT
Dietmar Brixy's new series of works bears the meaningful name REFLECT. In English as in German, this means "radiate", "reflect" and implies not only the purely optical, physical process but also a reflection of thoughts and feelings. At first, however, the radiance of the colours that make Brixy's pictures shine so incomparably dominates. Red in particular dominates the scenery, as a natural signal colour that embodies sensuality and joie de vivre like no other. Now, in 2021, the red may also signal a new energy and a regained optimism.
More defensive colours such as blue, grey and delicate pastel shades take a back seat, almost shyly, and noticeably cool the temperature of the whole picture. They play silently and quietly in the space that opens up behind the always somewhat loud red. Like a theatre curtain, the red sets the stage for an almost illusionistic deep space, as we have known it in painting since the Renaissance. Other elements and effects of classical painting can also be discerned, central and aerial perspective suggesting distant landscapes. Of course, Brixy does not paint one, but our imagination recognises natural horizons, mountain ranges or shorelines behind his horizontal pictorial elements.
While the red is generally applied very strongly and impasto, standing at the ramp like an opera diva in velvet and heavy damask, the passages behind appear in a gossamer robe of silk; here the oil paint has been spread with a palette knife to form delicate colour gradients. Here again our imagination sees a natural phenomenon, reflections in the water, as we have known them in painting since the Impressionists. The Venice paintings by Claude Monet, for example, are famous, where the façades of the palaces are reflected as a play of colours in the Grand Canal. But in Brixy's work it is not real things, it is the artist's own colours that are reflected immanently, in the picture itself, and thus quite literally redeem the title of the new series.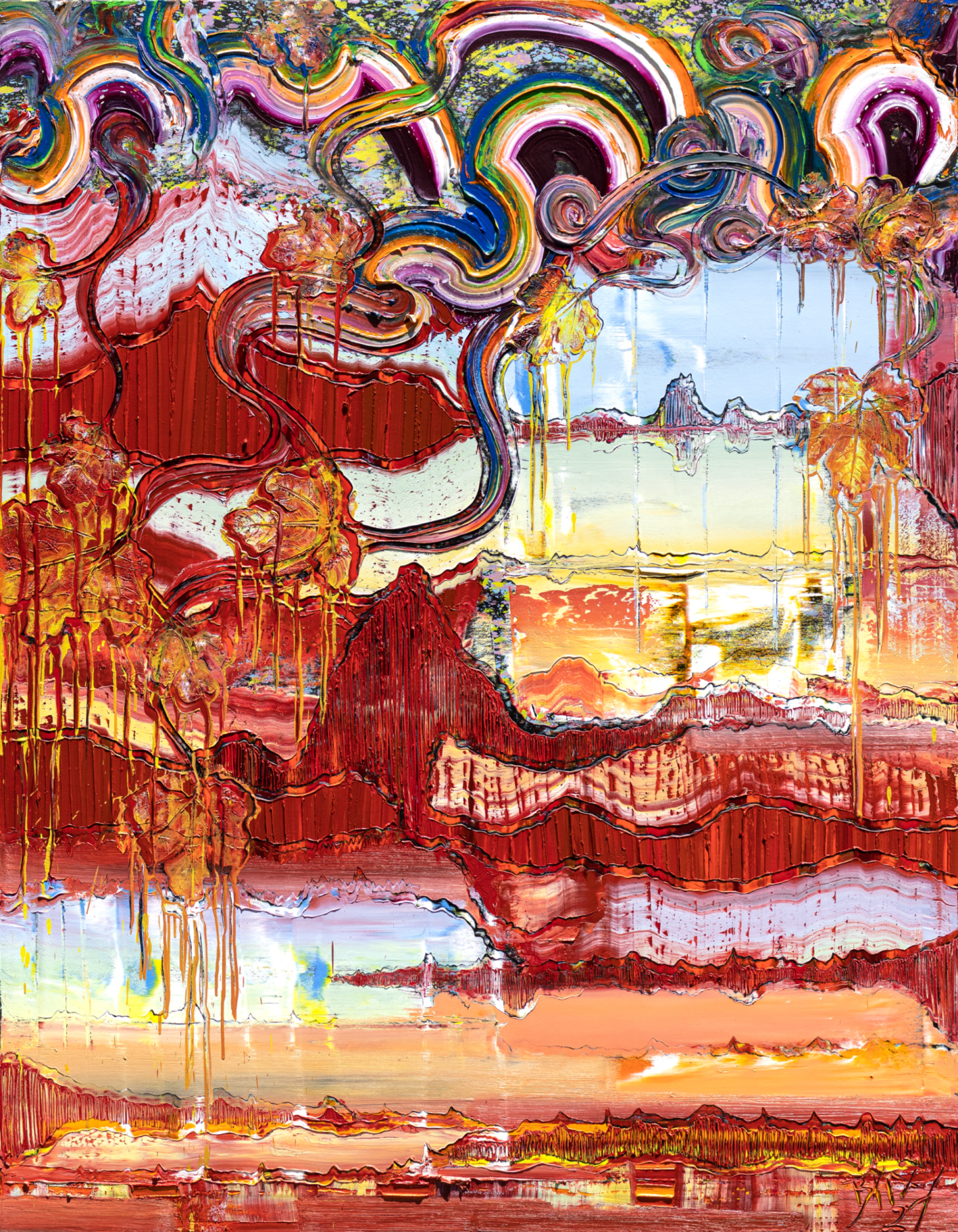 Reflect, 2021, oil on canvas, 180 x 140 cm
Exhibition in Mannheim shows works by Sonja Edle von Hoeßle
Complementing his own painterly compositions, Dietmar Brixy, in cooperation with the Tammen Gallery from Berlin, presents sculptures by the sculptor Sonja Edle von Hoeßle in the interior and exterior spaces of his artist residence. Her "endless loops" of Corten steel, some of which are large in size, are welded together without beginning or end points and conquer the space with expansive gestures. Static and movement as well as openness and closure characterise her work, which finds its characteristic formulations in the alternation of straight and curved sections. Sonja Edle von Hoeßle combines moments of tension and relaxation, of calm and powerful dynamics. Her sculptures stand as synonyms for the eternal cycle of life and all natural processes. It is precisely here that the points of contact with Dietmar Brixy's paintings reveal themselves. In their compositions, both artists play with the sharpened perception of the viewer and always stage new, surprising perspectives. They open up unexpected views and vistas, enable a new perception of the surrounding world and formulate the unmistakable request - "REFLECT"!
Goldedition Loop 34 , 2015, 30 x 52 x 31 cm
What:
Exhibition "REFLECT" from artist Dietmar Brixy.
Special Guest Galerie Tammen, Berlin with Sonja Edle von Hoeßle - Sculptures.
Where:
Altes Pumpwerk Mannheim-Neckarau, Aufeldstraße 19, 68199 Mannheim
When:
24. September - 17. October 2021
Opening hours:
Friday 2 pm - 7 pm, Saturday and Sunday 11 am -4 pm and by arrangement
Parking:
Sufficient parking spaces are available in the car park of the GKM Mannheim administration building.
CORONA NOTES:
Please note that we can only grant you access if you present a current negative Corona test result or proof of full vaccination protection or recovery. Masks are compulsory on the entire premises. In addition, the valid protection requirements as well as the known hygiene and behavioural rules apply.
For the purpose of infection chain tracking, we need to collect your contact details on site. To do this, you can install the Luca app on your mobile device in advance and then simply scan the QR code on display at the entrance. Alternatively, we offer you the option of filling out a contact form on site.
In view of the measures to contain the Corona pandemic, we are foregoing a vernissage and finissage.
Here you can see the creation of one of the latest works by artist Dietmar Brixy from his current series REFLECT.