REFLECT – Sinnensuche
The art association Villa Streccius in Landau presents artist Dietmar Brixy and the sculptress Sonja Edle von Hoeßle in the exhibition "REFLECT - SINNENSUCHE" from 13 May to 26 June.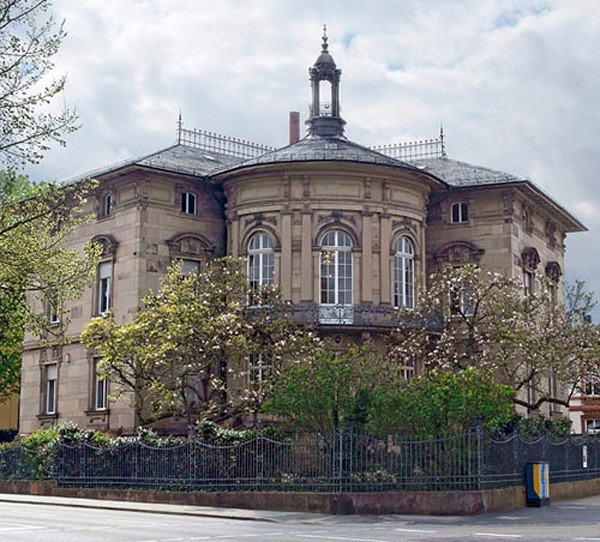 Art association Villa Streccius e.V. - Landau Photo: Astrid Diehl
Sonja Edle von Hoeßle creates graceful-looking sculptures without concrete beginning and end points. Her theme is the endless loop. She varies simple cuboid shapes in space into circles and lines or lets them run as arcs, partly overlapping. Straight elements alternate with oscillations, tension with relaxation. Depending on the positioning and perspective, completely different views, vistas and shadow plays arise. Her figures are expansive, deliberately incorporating the empty space. She works in small format in steel partly in gold and large format in corten steel. Her works radiate a simple elegance. In their movement and unity, they symbolise the eternal cycle of life and nature.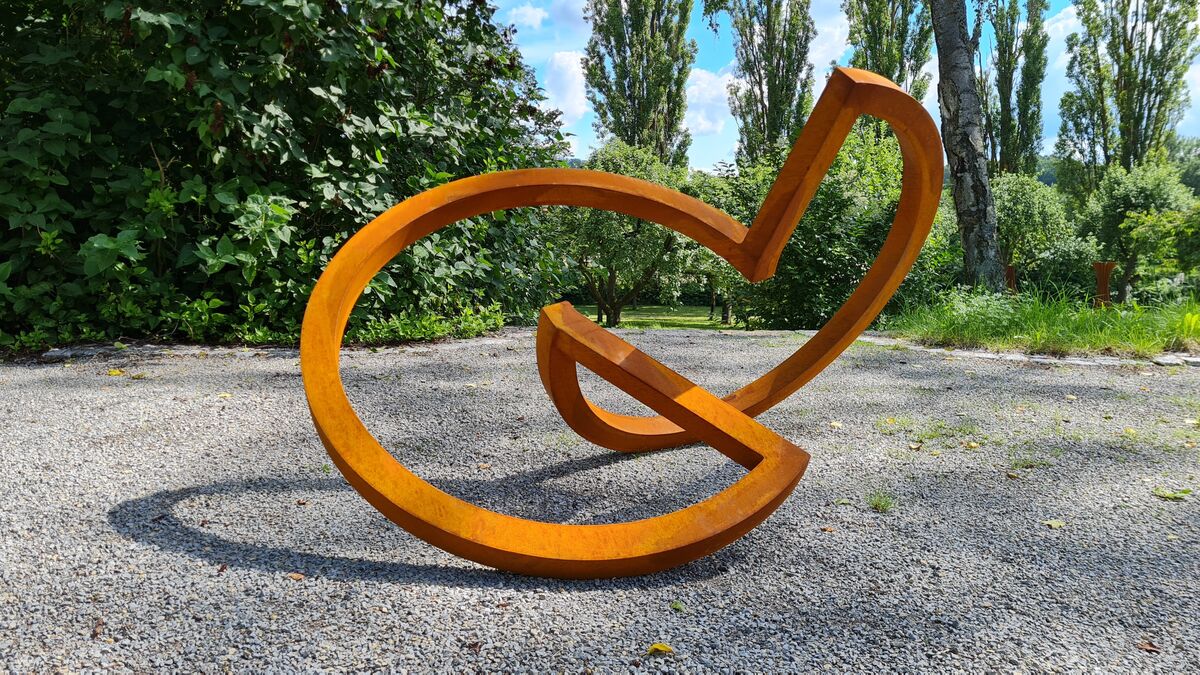 Sonja Edle von Hoeßle, "Endlosschleife 43VI", Cortenstahl H 75 cm B 145 cm T 85 cm, 2021
The concise sculptures by Sonja Edle von Hoeßle in their lightness form an impressive counterpart to the emotional rush of colours in the wokring series "Reflect", "Horizon" and "Happy" by the Mannheim artist Dietmar Brixy. On the one hand, the respective titles refer to his working method, the testing of new techniques, the inclusion of fingers and hands alongside brush and palette knife. This creates relief-like pictorial structures and changes in perspective, sometimes horizontal, sometimes vertical, with unexpected views in, out and through. Colour blurs, colour contrasts, overlaps, juxtapositions generate an enormous impasto colour layer painting. Very agitated, lively zones stand next to completely calm, smooth surfaces, both complement each other and form a total work of art.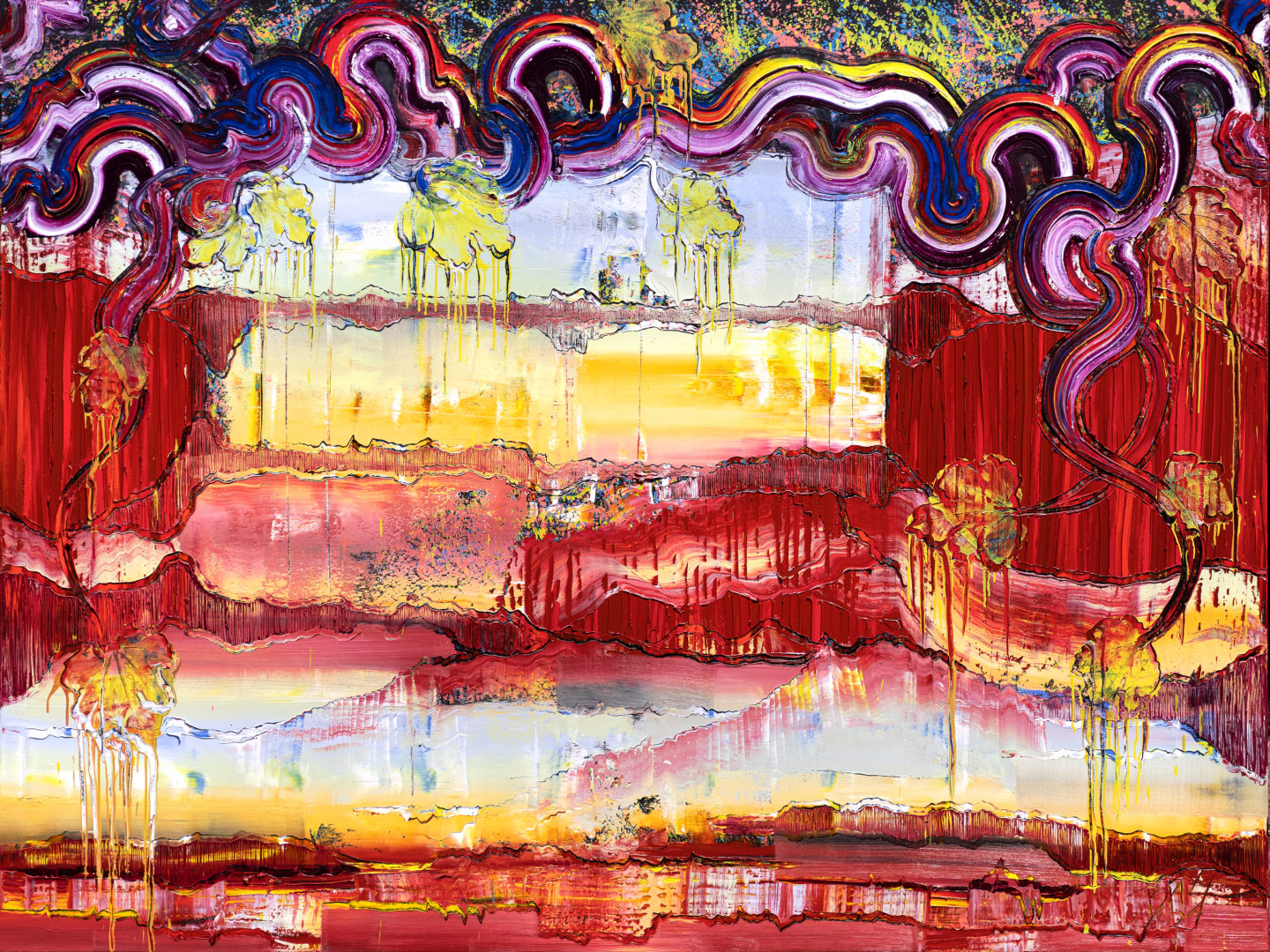 Brixy, Reflect, 2021, Öl auf Nessel, 180 x 240 cm
Tradition meets Modernism – Dietmar Brixy at the Kunstverein Villa Streccius, Landau
Text from the catalogue "BRIXY REFLECT", S. 109-110
Editor: Galerie Tammen, Berlin & Kunstverein der Villa Streccius in Landau e.V.
"Following passions, realizing dreams" in and through art.
Dietmar Brixy, who once made the above statement about his own painting, derives his inspiration from the rich variety of colors and forms found in nature. Brixy creates atmospheric pictures, explosions of color, frequently without boundaries, and just as often with strong contours. In terms of content, his paintings make no attempt at realism and the arrangement of the various compositional elements is paramount to understanding them.
The artist's main source of inspiration is his immediate environment: the Altes Pumpwerk and its lush gardens in Neckarau where he lives. The former wastewater pumping station was built in 1903 and designed by the city architect of Mannheim, Richard Perry. The Neo-Gothic brick building is 35 meters long and 11 meters high. The ornamental structure of the facades, especially to the front of the building, and the large arched lattice windows make it seem more like a piece of sacral architecture than an industrial site.
Dietmar Brixy grew up in the vicinity of the pumping station and fell in love with the building while still a child. In 2001, he was finally able to realize his childhood dream. After purchasing the landmarked building, he converted it into a studio and living space surrounded by magnificent gardens. His fantastical paintings with their sensational colors are created in this incredible atmosphere. Art is not just about art, but about our very existence, about living interaction, the relationship between the individual and the environment. If art is to do its job, it has to explore the world that surrounds us. This includes landscapes, cities, nature, and technology, but also involves the communication of moods, emotions, and sensations like light and color. Brixy's main focus is the natural landscape just outside his studio, including the natural diversity of its forms as well as details and close-ups of the plant life. He has the amazing ability to capture specific moods and an outstanding sense of the beauty of his natural environment, which he knows best how to express in his art. The artist has developed his own signature style that makes his paintings instantly recognizable and has contributed significantly to his acclaim. Brixy's paintings are unique and unmistakably his own.
The power of Dietmar Brixy's paintings varies depending on where they are presented. In the Neo-Gothic industrial building where they were made, they have a direct connection to their surroundings. They bring the beauty and rich variety of color from the surrounding gardens into the light-flooded rooms of the artist's spacious studio and the former engine house.
His compositions have a very different impact, however, when seen in the setting of a grand house—such as the Villa Streccius in Landau. Designed by the architect Ludwig Levy, Villa Streccius was built in 1893 in a Neo-Baroque style. The notary Heinrich Streccius, who commissioned the building, insisted on high-quality materials such as marble, fine timber beams, and elaborate metalwork. The generous living quarters across two floors around a rotunda have been turned into an exhibition space more than 300 square meters in size. In the coming year, the Kunstverein will be hosting an exhibition of Dietmar Brixy's work, including new pieces by the artist that are going on show to the public for the first time. One thing's for sure: the sensuousness and richness of Dietmar Brixy's rapturous compositions of color will be seen to full effect in this atmospheric setting.
Dr. Monica Jager-Schlichter
Kunstverein Villa Streccius in Landau e.V. (Chairwoman)
Infos about the exhibition
Period: 13.05.2022 - 26.06.2022
Exhibition opening: Friday, 13.05.2022, 7 p.m.
Opening hours during the exhibition: Tue and Wed 5-8 p.m. | Thu to Sun 2-5 p.m. |Mondays closed