Mannheim-based artist Dietmar Brixy is opening the doors of the Old Pumping Station in Mannheim-Neckarau again this year for his "TRUTH" exhibition. From September 29 to October 22, he invites art lovers to take a tour of his artist residence and present new compositions from his "JOURNEY" series of works as well as selected works from earlier creative phases in the interior and exterior spaces of the industrial monument. In cooperation with the Tammen Gallery from Berlin, the exhibition is complemented by sculptures by guest artist Anna Arnskötter.
"TRUTH: A reflection on truth in the works of Dietmar Brixy and Anna Arnskötter".
Art has always possessed the ability to confront us with profound questions and make us reflect on the meaning of our existence. In the exhibition "TRUTH" at the Old Pumping Station in Mannheim-Neckarau, painter Dietmar Brixy and sculptor Anna Arnskötter present their latest works, which offer a multi-faceted view of the concept of "truth". The exhibition invites visitors to embark on an inspiring journey in which they can discover the complexity and multi-layered nature of truth in contemporary art.
Inspirations from a study trip
The current painting of Dietmar Brixy is characterized by a fascinating development, which can be traced back to a trip from India to Thailand. This trip had a profound influence on the artist and is clearly reflected in his works. Brixy now uses an even more expressive use of color, with colors such as turquoise and pink playing a particularly significant role. Through the intensified color nuances and the expanded palette, the artist creates an atmosphere that involuntarily captivates the viewer. The canvases become a kind of visual diary, reproducing the memories and impressions of his journey in abstract form.
India, a country full of cultural treasures and spiritual aspects, opened a new world of inspiration to Brixy. The trip, however, was not only of aesthetic significance, but also marked a certain borderline experience, in which the contrasts of this country came clearly to light. In this field of tension between the contrasts, Brixy found a situation that had a lasting influence on his perception.
A further development of the series of works "Journey"
The current paintings of Dietmar Brixy can be understood as a further development of his previous series of works "Journey". Even at first glance, his paintings promise the feeling of departure that was already present in the artist's earlier series of works. Through the unconventional use of color and structure, Brixy creates a maximum of emotional impact and invites us to go on a journey through his paintings.
A characteristic feature of "Journey" is the bright colors. The compositions radiate an almost early summer brightness, which is further enhanced by the deliberate use of white valeurs. Again and again, these light tones are set in contrast to dark accents in order to emphasize their radiance even more clearly. Almost unnoticed, Brixy draws the viewer deeper into the composition, layer by layer. Like a curtain pulled aside or pushed up, the dynamically designed color surfaces reveal a view of a delicate, shimmering center. What represents the final level of design for the artist opens up access to the paintings for the viewer. The striking fig leaves, dipped in diluted oil paint and then pulled from the impasto layer of paint, serve as a representational motif, connecting real nature with the abstract landscape.

Journey, 2023, Öl auf Nessel, 120 x 300 cm
Truth in Dietmar Brixy's paintings
One of the central themes in Brixy's paintings is the meaning of truth. The artist himself emphasizes that every person has his or her own perception and truth, since everyone sees the world with different eyes. Thus, he opens a space for individual interpretation of his artworks. He is not concerned with conveying a particular message, but rather with the dialogue between different perspectives and points of view. He encourages viewers to discover and share their own truth as they explore the paintings. It is not about propagating One View of the World, but about openness to the multiple possibilities of understanding and interpretation.
The expressive color in Brixy's current paintings underscores this idea of diversity. The vibrant accents of color create an unmistakable visual intensity, inviting the viewer to embark on a journey through the nuances of truth. Each brushstroke and color composition helps to create a unique emotional experience that reflects the complexity of the human condition. By emphasizing individual truth and respectful dialogue between different perspectives, Brixy invites viewers to find their own interpretations and discover the world in all its diversity.
Dietmar Brixy's work reflect the search for authenticity in a world characterized by superficial appearances. His paintings reflect the tension between the visible and the hidden, between what we perceive and what is hidden behind the surface. They challenge the viewer to seek the truth in his or her own experiences and sensations, and to recognize that it is not always obvious.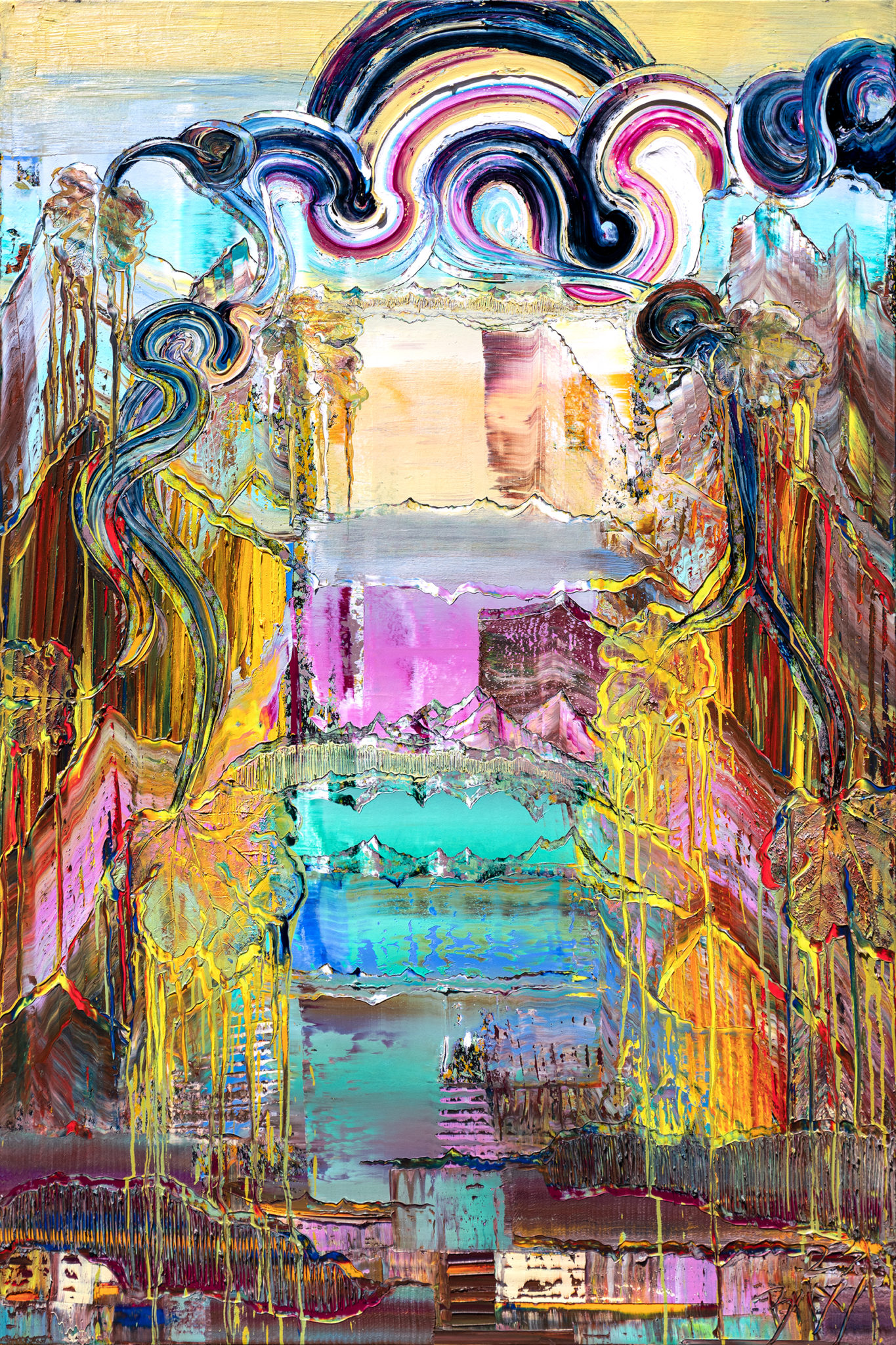 Journey, 2023, Öl auf Nessel, 180 x 120 cm
The truth in Anna Arnskötter's sculptures
In Anna Arnskötter's sculptures, truth is explored in a very different way. Arnskötter creates sculptures that represent truth in its material form. Using a variety of materials and techniques, she creates works that explore the duality of truth and fiction. Her sculptures invite the viewer to grasp the solid presence of truth while accepting its mutability. Arnskötter's works show us that truth is not static, but can transform depending on perspective and context.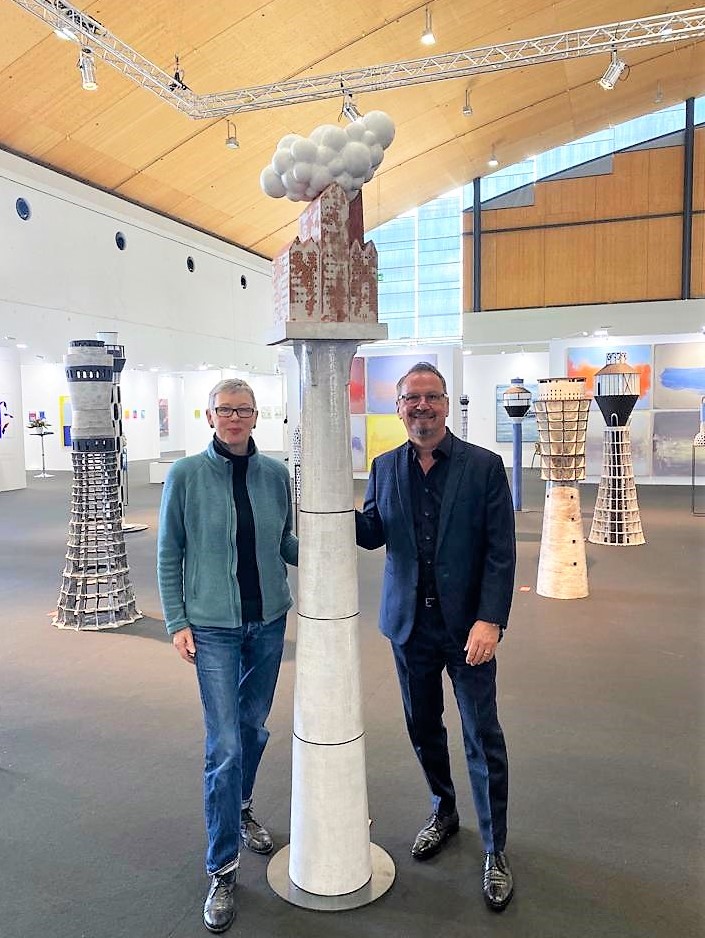 Künstlerin Anna Arnskötter und Künstler Dietmar Brixy
Dialogue between Brixy and Arnskötter
The exhibition "TRUTH" allows a fascinating dialogue between the works of Dietmar Brixy and Anna Arnskötter. Although their artistic expressions are different, they share a common search for truth and authenticity. The subtle connection between Brixy's paintings and Arnskötter's sculptures opens a space for reflection and invites visitors to question their own notions of truth. By presenting different perspectives on the subject, Brixy and Arnskötter expand our understanding of truth and encourage us to look beyond the superficial veils.
The Meaning of "TRUTH" as the Exhibition Title
The exhibition "TRUTH" will take place from September 29 to October 22 at the Old Pumping Station in Mannheim-Neckarau. The historic building provides an inspiring setting for the presentation of Brixy and Arnskötter's works. The title of the exhibition, "TRUTH," serves as a guide for viewing the works of Brixy and Arnskötter. It invites the viewer to grapple with the question of truth and explore it in the various artistic forms of expression. The point is not to find an absolute truth, but rather to appreciate individual perception and interpretation. "TRUTH" serves as an invitation to explore the multi-layered nature of truth and to recognize that it emerges in the connection between artwork and viewer.
What:
Exhibition "TRUTH" by artist Dietmar Brixy.
Special guest gallery Tammen, Berlin with guest artist Anna Arnskötter - sculptures.
Where:
Old pumping station Mannheim-Neckarau, Aufeldstraße 19, 68199 Mannheim.
When:
September 29 - October 22, 2023
Opening hours:
Friday 2-7 p.m., Saturday and Sunday 11 a.m.-4 p.m. and by appointment.
Parking:
Sufficient parking spaces are available in the parking lot of the GKM Mannheim administration building.