Located in Düsseldorf's stilwerk, Christian Marx Gallery has been representing international art in the fields of painting, sculpture, drawing, graphics and photography since 2009. Gallery owner Christian Marx presents his select group of artists at numerous solo and group exhibitions as well as at international art fairs. One of the gallery owner's focuses is on promoting young graduates of the Düsseldorf Art Academy. Many of the artists are master students of renowned professors such as Markus Lüpertz, Jörg Immendorff, Günther Uecker, Jannis Kounellis, Thomas Ruff, Tal R. or Peter Doig. The Christian Marx Galerie is a member of the Federal Association of German Galleries and Editions.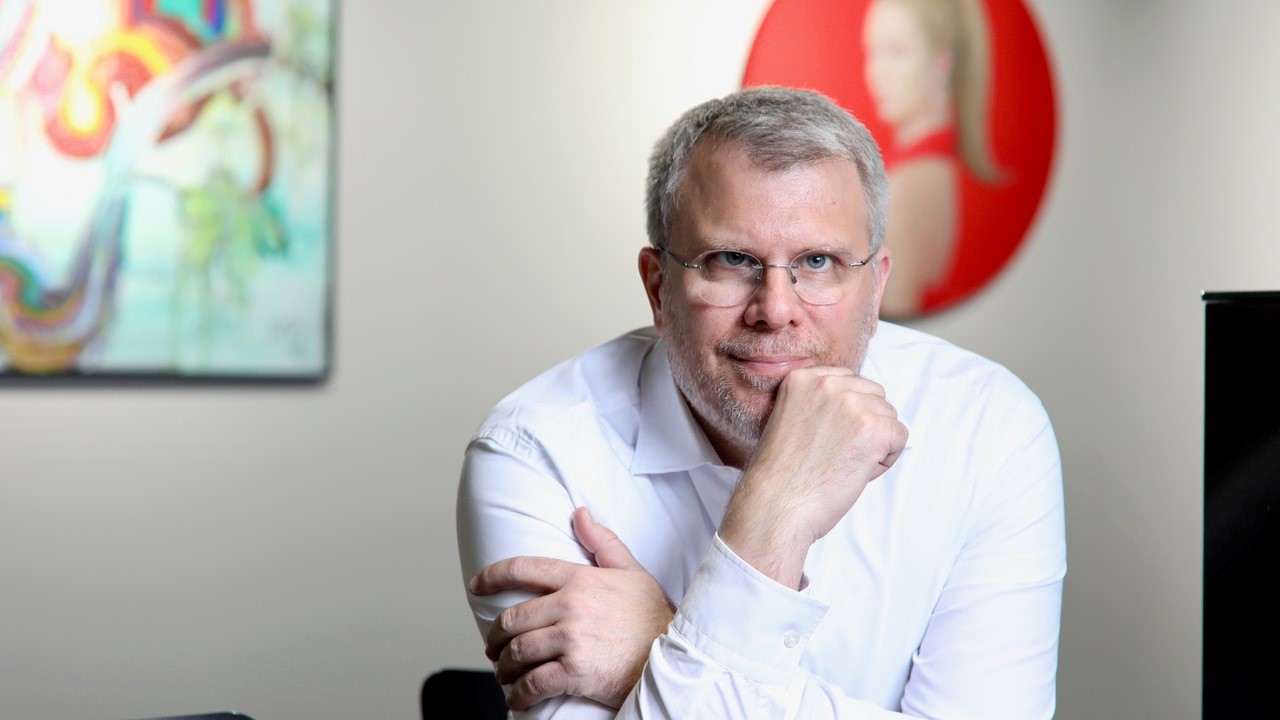 Gallery owner Christian Marx
This is what gallery owner Christian Marx says about artist Brixy
Colour, power, structure, form, sculpture, painting, nature, aesthetics and a good dose of gut feeling.
In a nutshell:
It's my wife's fault! It was she who, during our visit to the art.fair in Cologne, stood fascinated in front of a wall installation of Brixy's bubbles and raved about the wonderful aesthetics and colourfulness of the objects.
Frankly speaking:
Yes, I liked the installation too, but as a representative of artists who devote themselves exclusively to figurative painting, at that moment when Dietmar Brixy thrust a catalogue into my hand and said we could keep it, I didn't even think about gallery representation. And yet, a small flame was lit. Gut feeling.
Honestly:
The gallery owner Dietmar gave the book to was still in his infancy and had not participated in a single fair as an exhibitor himself, let alone been anything like an enrichment to the Brixy cosmos. And what does Dietmar Brixy do? He continues to invite me to his exhibitions and fairs, sends me his publications and keeps in touch. For this I thank you, dear Dietmar, the gallery owner could mature like the wine in the cellar of the pumping station.
In other words:
One day I couldn't resist the fascination of Brixy any longer, picked up the phone and we made an appointment at Pumpwerk. In principle, I could stop at this point, because anyone who has had the pleasure of visiting this special place knows exactly what happens now. It is nothing less than the discovery of a planet whose gravitational pull goes far beyond what is known. More object than flat painting, the works know how to unfold their effect in space. Brixy's original artistic activity as a sculptor cannot be overlooked. Like a relief, the painter/sculptor creates an impressive depth on the two-dimensionality of the canvas. By means of superimpositions, horizons are created, shapes and structures provide support and the power of the colour allows the viewer to dive into the deepest interior.
Clearly said:
Dietmar Brixy has developed an unmistakable style whose intensity forces the vast majority of recipients to either reject it completely or be totally enthusiastic. Or perhaps not after all? Once you have opened yourself to Brixy's fascination, you will no longer be able to escape its spell. From my many years of representation, I can tell you of collectors who initially signalled little enthusiasm for Brixy's work, only to come into the gallery one day and suddenly be surprised with the sentence "I'll buy this one". Although Dietmar Brixy's signature is unmistakable, he manages to maintain an enormous development, change and creativity in his cosmos, so that quite often completely new perspectives on his work open up. This much is certain; only very few artists are granted this.
Last said:
Each entry into the cosmos of the artist Dietmar Brixy manages to touch the inner self. Always personal and in very different ways, it is human nature to react completely divergently to Dietmar's work. Where one person perceives the aestheticisation as a blockade, for the other it means having found a bridge to penetrate further. This could be continued indefinitely. It can only be explained by the structure of the respective observer, but the gift of Dietmar Brixy and his art is to elicit these emotions and emotions. It is like the mirror in the mirror, always a next step, always a new level, always the next horizon.
Discover, Surprise, Horizon...........Happy!!!!!!!!
Exhibition view Christian Marx Gallery
BRIXY & CHRISTIAN MARX GALLERY
Exhibitions extract:
art KARLSRUHE with Christian Marx Galerie, Düsseldorf (GS), 2017
Christian Marx Galerie, Düsseldorf, "Grand Opening" in "stilwerk" (GS), 2016
Christian Marx Galerie, Düsseldorf, "Discover. Brixy" (OAS), 2015
Art FAIR, Köln with Christian Marx Galerie, Düsseldorf (OAS), 2014
Here you get an overview of all exhibition activities of Brixy since 2009